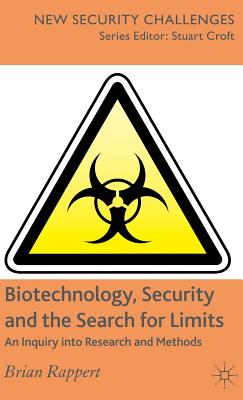 Biotechnology, Security and the Search for Limits (Hardcover)
An Inquiry Into Research and Methods (New Security Challenges)
Palgrave MacMillan, 9780230002487, 198pp.
Publication Date: July 1, 2007
* Individual store prices may vary.
Description
Biotechnology, Security and the Search for Limits examines the post 9/11 security implications for life science research as well as the methodological issues associated with conducting social research. In doing so the book considers the place of biological and social research in creating and responding to societal problems.
About the Author
BRIAN RAPPERT is an Associate Professor of Science, Technology and Public Affairs in the Department of Sociology& Philosophy at the University of Exeter, UK. His long term interest has been the examination of how choices can and are made about the regulation of technologies in conditions of uncertainty and disagreement. He is the author of Controlling the Weapons of War: Politics, Persuasion and the Prohibition of Inhumanity (2006); Technology and Security (ed., 2007), and A Web of Prevention: Biological Weapons, Life Sciences and the Future Governance of Research (with Caitriona McLeish eds., 2007).