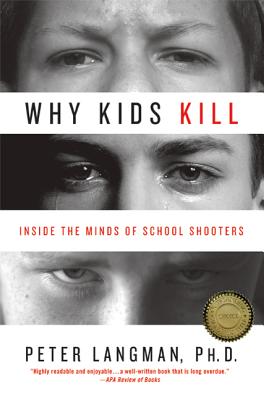 Why Kids Kill
Inside the Minds of School Shooters
Paperback

* Individual store prices may vary.
Other Editions of This Title:
MP3 CD (11/6/2018)
Compact Disc (11/6/2018)
Description
In the horrific aftermath of school shootings, distraught communities struggle to make sense of these seemingly senseless acts. Despite massive media coverage, we know little about what drives young perpetrators or how they rationalize their acts. In this breakthrough analysis, Dr. Peter Langman presents the psychological causes of school shootings and offers unprecedented insight into why certain teens exhibit the potential to kill. He shows how to identify early signs of possible violence and offers preventative measures that parents and educators can take to protect their communities.
Praise For Why Kids Kill: Inside the Minds of School Shooters…
"A very strong resource for school counselors and parents. The author meets his task of truly getting into the minds of school shooters." —BNET

"Langman offers a paradigm of three specific categories of youth offenders--psychopathic, psychotic, or traumatized. . . Langman fully discusses long-term exposure to violence, genetic predisposition to violence, recurrent alienation from mainstream society, depression, narcissism, and lack of empathy, as well as improperly challenged and constrained rage in the context of these three categories . . . He also looks at cases of youth who are not as notorious and whose intent to kill others was thwarted, and ends with lessons that can be learned from these and other cases. In addition, Langman presents research that informs current practice with disconnected, enraged youth. Langman believes that school shootings can be prevented, and his analysis offers reflections on how prevention can occur. A vital, phenomenal, extremely valuable work. Summing up: Essential. all levels / libraries." —D.E. Kelly, Adelphi University, CHOICE (Sept. 2009)

"Peter Langman's book Why Kids Kill: Inside the Minds of School Shooters is a highly readable, engaging text that analyzes 10 school shooters, outlines a typology that classifies school shooters into three distinct categories, uses the author's personal experience in assessing potential school shooters, and outlines practical lessons from foiled and actual attacks…The author's extensive review of law enforcement records, clinical insight from his own professional work, and ability to clearly organize all of the information have resulted in a well-written book that is long overdue." —Brandon Robbins, Contemporary Psychology: APA Review of Books

"The result of his decade-long inquiry…plumbs the interior lives of 10 notorious school shooters--including Columbine killers Eric Harris and Dylan Klebold and Virginia Tech gunman Seung-Hui Cho--to draw conclusions about what set them off." —Michael Rubinkam, The New York Times

"A thorough analysis of recent school shootings and a helpful prescription for prevention geared to readers outside the psychiatric profession." —Library Journal

"Mr. Langman, who is the clinical director of KidsPeace, an Orefield, Pa.-based charity that provides mental-health services for children and teenagers in 11 states, draws 10 lessons for parents and educators from his studies of school shootings across the United States." —Debra Viadero, Education Week

"Dr. Langman's professional expertise and exhaustive research combine to produce a remarkably comprehensive psychological analysis of school shooters that will revolutionize our understanding of this phenomenon. This book provides an in-depth psychological analysis of school shooters that easily can be understood by non-professionals. The outstanding balance between psychological insight and plain language makes this book invaluable to anyone who works with children." —Mary Ann Swiatek, Ph.D., Licensed Psychologist and member of the Association for Psychological Science

"Dr. Langman …clearly identifies the enormity of the feelings of isolation and meaninglessness that plagued these children. Shows what we can do to make schools safe and homes friendly and child focused. Perhaps his greatest contribution is to point out that hyper reactive child exist in a social context that if it is not empathic and helpful can perhaps trigger the calamites he describes." —Stuart Twemblow, author of Why School Anti Bullying Programs Don't Work

"We desperately need this book. It provides an interior view of the mind of rampage school shooters that helps us understand the origins of the narcissism, paranoia, sadism, and thwarted rage that appears to motivate them. Through the learned hands of Peter Langman, we come to understand the differences between shooters who are pyschopaths and those who are schizophrenics, and why these distinctions matter. A dispassionate, but clinically powerful analysis, Why Kids Kill, will be of great interest to teachers, parents, school administrators, and law enforcement officials who are responsible for prevention and treatment." —Katherine S. Newman is the senior author of Rampage: The Social Roots of School Shootings and the Forbes '41 Professor of Sociology and Public Affairs at Princeton University

"Why Kids Kill should be required reading for school counselors and administrators....This work is a seminal contribution to child as well as adolescent psychology." —Counseling Today, American Counseling Association

"Why Kids Kill is a breakthrough analysis of the psychological causes of school shootings....a major contribution to the field of child psychology and a look into how unprocessed human pain can end in tragedy." —Journal of the American Academy of Child and Adolescent Psychiatry
St. Martin's Griffin, 9780230101487, 256pp.
Publication Date: August 3, 2010
About the Author
Peter Langman is the Clinical Director of psychology at KidsPeace, an organization that helps kids overcome emotional crises. Winner of the Pennsylvania Psychological Association's 2008 Psychology in the Media Award, he has over 20 years of experience treating at-risk youth, specializing in kids with homicidal tendencies. He has appeared on CBS, BBC, and CBC. He is the author of a number of works on mental health.