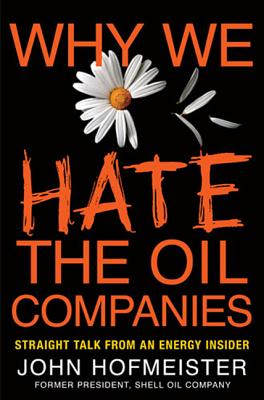 Why We Hate the Oil Companies
Straight Talk from an Energy Insider
Hardcover

* Individual store prices may vary.
Other Editions of This Title:
Paperback (8/30/2011)
MP3 CD (5/10/2016)
Description
As president of Shell Oil, John Hofmeister was known for being a straight shooter, willing to challenge his peers throughout the industry. Now, he's a man on a mission, the founder of Citizens for Affordable Energy, crisscrossing the country in a grassroots campaign to change the way we look at energy in this country. While pundits proffer false new promises of green energy independence, or flatly deny the existence of a problem, Hofmeister offers an insider's view of what's behind the energy companies' posturing, and how politicians use energy misinformation, disinformation, and lack of information to get and stay elected. He tackles the energy controversy head-on, without regard for political correctness. He also provides a new framework for solving difficult problems, identifying solutions that will lead to a future of comfortable lifestyles, affordable and clean energy, environmental protection, and sustained economic competitiveness.
Praise For Why We Hate the Oil Companies: Straight Talk from an Energy Insider…
"Why We Hate the Oil Companies is refreshingly pragmatic in its view, an engaging and illuminating read in an incredibly politicized policy area…America will be all the better for it."—Foreign Policy
"Mr. Hofmeister does his country a favor by pointing the finger of blame at the government and not at oil companies, which, every time there's a major hurricane, are used as scapegoats so politicians don't have to take responsibility for the fundamental causes of the nation's daunting energy situation. We need more voices like Mr. Hofmeister's."—The Washington Times
"In an ambitious attempt to redefine the national discussion on energy policy, John Hofmeister, former president of Shell Oil Co., argues that pretty much everyone—from politicians to oil execs to environmentalists—is wrong on the issue…The good news: his ideas could actually work…A compelling, important book, especially given current events."—Newsweek
"Essential…[Lays out his points] brilliantly and entertainingly. And with the eerie calm of a Vlucan. And he spares no one criticism."—Esquire
"A remarkably balanced reflection from a past industry player. Hofmeister obviously doesn't give a rip about what his former colleagues think about him; he's critical of the industry and has the street cred to be…Offers some aggressive solutions to global warming and the over-consumption of energy."—
The Globe and Mail
 "[Hofmeister] persuasively argues that oil companies' sometimes poor actions and reputations combined with politicians' false promises have created an untenable framework for moving forward in addressing the United States' energy future."—
Santa Fe Reporter
"Provocative….Insightful….Stimulating….See the alternative view of an insider!  Share his outrage."--Ram Charan, bestselling co-author of Execution and author of What the CEO Wants You to Know"
 "As President of Shell Oil, [Hofmeister] addressed future energy and environmental security, challenging the industry to increase awareness of the energy issues. Now, [he] is reaching out to educate Americans about energy and solutions to ensure that preserving the environment is a top priority for public policy. John knows his 'business' and will help citizens and policy makers alike change the way we view our responsibility to the future." —Gretchen M. Bataille, President, University of North Texas
"[Hofmeister] takes a broad view of what we need to do to craft a successful energy strategy for our nation and has first hand knowledge of why our past policies have failed to prepare us for 21st Century challenges." —Robert S. Walker, Former Chairman of the Science Committee of the U.S. House of Representatives, Chairman of the Hydrogen and Fuel Cell Technical Advisory Committee of the U.S. Department of Energy
"Entertaining and irreverent, skewering nicely all participants in energy supplies, demand and policies and is founded on a deep understanding of the economics, technologies and politics that drive the system. Fulfills a very important role in educating a broad readership in the critical issues of the national energy system and proposing pragmatic solutions with flair and candor.  For the sake of the nation, I very much hope it attracts the high level of attention that it deserves."--Christopher E. Ross, Vice President, CRA Charles River Associates and co-author of "Terra Incognita - A Navigation Aid for Energy Leaders" "I have been interested in energy issues since high school and have read extensively on energy-related subjects. This is, by far, the most coherent, thoughtful, practical and compelling book I have ever read on energy technology and policy issues."--Mike Critelli, chairman of Dossia Service Corporation, retired chairman and CEO, Pitney Bowes 
"Why We Hate the Oil Companies
is riveting. I keep quoting it to people. Reading it is like having a wise uncle in the energy industry (and an environmental advocate to boot) who takes you aside and tells you, in straight language, exactly what's wrong and right with the current American system. Candor, insight, and urgency at John Hofmeister's level are so rare that, before this book arrived, I'd forgotten they existed."-- Art Kleiner, editor-in-chief, strategy+business 
Palgrave MacMillan, 9780230102088, 249pp.
Publication Date: May 25, 2010
About the Author
John Hofmeister joined Shell Oil in 1997 and served as its president from 2005-2008, following twenty-five years in major energy consuming companies, including GE, Nortel and AlliedSignal. He is now the chairman of the board of the National Urban League and founder of the nonprofit Citizens for Affordable Energy. He has appeared on the Today Show, Meet the Press, and other major news shows, and continues to be sought out as an expert on energy issues by media including CNN, CNBC, Fox Business Today, and Bloomberg, among others. He lives in Houston, TX.
or
Not Currently Available for Direct Purchase