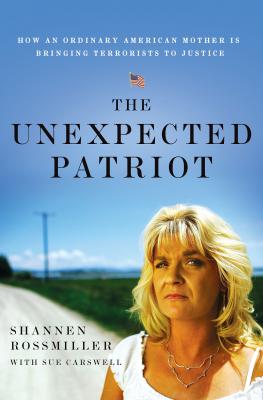 The Unexpected Patriot
How an Ordinary American Mother Is Bringing Terrorists to Justice
Hardcover

* Individual store prices may vary.
Other Editions of This Title:
Paperback (11/13/2012)
Description
After 9/11, when the nation was still in shock over the unprecedented attack on U.S. soil, Shannen Rossmiller, a country judge and mother of three in rural Montana, was formulating a plan. Soon she was devouring literature on Islamic culture, teaching herself Arabic, and preparing to infiltrate the central nervous system of global terror: online networks. Her efforts succeeded beyond imagination. Posing as an Islamic terrorist under dozens of screen aliases, she joined forces with the FBI and started trolling jihadist chat rooms, striking up conversations at 3am with men as far away as Pakistan, and amassing evidence against an array of suspected terrorists both at home and abroad. Her work laid the foundation for the online searches so crucial to law enforcement's fight against terror today.
Shannen's husband, Randy, uncovered her double life after a chat room terrorist wiped out the family computer and reports rolled in that the Rossmillers were being targeted for reprisal. Undeterred, Shannen started working with the FBI on sting operations, involving everything from jihadist cells to weapons caches to bomb plots, and bringing many of her targets to justice, as well as pioneering the digital entrapment tactics that are at the forefront of today's war on terror. This is the story of one woman's unexpected courage and how it changed the face of this global struggle.
Praise For The Unexpected Patriot: How an Ordinary American Mother Is Bringing Terrorists to Justice…
"A thrilling account of how one woman's determination to take action after 9/11 led to new investigative tactics."—Booklist
"Rossmiller's patriotic, risky involvement in righting the wrongs of 9/11 resonates on every page."--Kirkus Reviews
"Judge Shannen Rossmiller is a true American patriot who out of the unsuspecting suburbs in isolated Montana was motivated by the tragedy of 9/11 to embark upon her own global war against terrorism. Having taught herself Arabic and with her natural stealth-like ability to convincingly masquerade online as various radical Muslim men she single-handedly risked her life to successfully thwart terrorist attacks against our country and Americans abroad. This story is as compelling as it can get."--Mark Zaid
"Shannen Rossmiller is as brave, resourceful, patriotic, disarming, smart, and crafty as the pioneer women who first settled her Big Sky Country nearly two centuries ago."
—R. James Woolsey, former director of Central Intelligence
"Shannen Rossmiller's work in exposing Islamic terrorists has genuinely made our country safer. She has dedicated her life to combating the terrorist threat against the United States and has amazingly been able to infiltrate and actually stop terrorist operations. Our entire country owes her an immeasurable debt of gratitude."
—Steven Emerson, author of American Jihad
"A true American hero."
—Dr. Daniel Pipes, The Middle East Forum
"Shannen Rossmiller is in a league of her own." 
—NBC News
Palgrave MacMillan, 9780230102552, 248pp.
Publication Date: August 30, 2011
About the Author
Shannen Rossmiller was a mother of three and a Montana municipal court judge when she assumed the role of online terrorist-hunter after 9/11. Her work led to the founding a new field of espionage known as cyber-counterintelligence, and today she works closely with the FBI to find and prosecute terrorists. She lives in Conrad, MT.
or
Not Currently Available for Direct Purchase