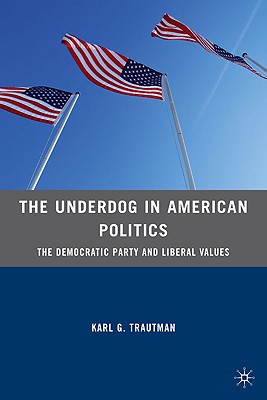 The Underdog in American Politics
The Democratic Party and Liberal Values
Hardcover

* Individual store prices may vary.
Other Editions of This Title:
Paperback (10/21/2015)
Description
One major party in American politics, the Democrats, has consciously identified itself with underdogs. This book analyzes the relationship between the party and the main political ideology of its base: liberalism.
Praise For The Underdog in American Politics: The Democratic Party and Liberal Values…
"A must-read for Democrats who can't explain why they are Democrats and Republicans who can't explain why their BIG DOG tactics often lose to UNDERDOGS. This remarkably researched book is essential for educators of today and their students who are the future of America's political system."--Phil Jones, Retired CBS News Correspondent, and Contributing Correspondent, PBS Religion & Ethics NewsWeekly
"Trautman's work is a careful analysis of the often-contentious embrace of the underdog by the Democratic Party. Casting itself in this role has resulted historically in opening the party to a wide-variety of differing interests, personalities, and styles. The self-identification of such groups as 'underdogs' places the party under various obligations to 'contest others' in re-establishing a desired condition of relative equality within which the presumed underdog can prosper and imparting a unique character to American liberalism. Throughout, Trautman displays a fine sense for the nuances with which American liberalism is continuously constructed and reconstructed, and illustrates with apt and plentiful examples the complex pathways the American underdog travels in the endless search for achievement and fulfillment."--Deane Neubauer, Emeritus Professor of Political Science, University of Hawaii, Manoa
"Karl G. Trautman's The Underdog in American Politics is a thorough and sweeping portrayal of one of the animating values of American culture and its symbiotic evolution with the Democratic Party over two centuries. The book illustrates a crucial fulcrum of political conflict, one that is claimed by progressives and Tea Party advocates alike. Ranging from Jacksonian politics to the age of Obama, Trautman presents a well crafted narrative of the underdog's place in the American political story. This will serve as a very useful text for college classes on political parties and American ideology."-- Paul Petterson, Chair, Department of Political Science, Central Connecticut State University
Palgrave MacMillan, 9780230102743, 265pp.
Publication Date: June 8, 2010
About the Author
KARL G. TRAUTMAN is Chairperson of the Social Science Department at Central Maine Community College, USA.