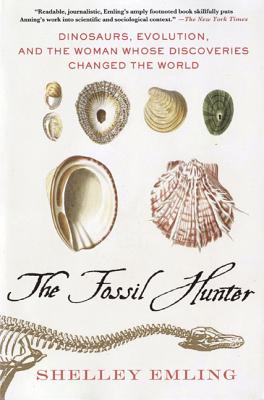 The Fossil Hunter
Dinosaurs, Evolution, and the Woman Whose Discoveries Changed the World (MacSci)
Paperback

* Individual store prices may vary.
Other Editions of This Title:
Digital Audiobook (11/9/2020)
Description
Mary Anning was only twelve years old when, in 1811, she discovered the first dinosaur skeleton--of an ichthyosaur--while fossil hunting on the cliffs of Lyme Regis, England. Until Mary's incredible discovery, it was widely believed that animals did not become extinct. The child of a poor family, Mary became a fossil hunter, inspiring the tongue-twister, "She Sells Sea Shells by the Seashore." She attracted the attention of fossil collectors and eventually the scientific world. Once news of the fossils reached the halls of academia, it became impossible to ignore the truth. Mary's peculiar finds helped lay the groundwork for Charles Darwin's theory of evolution, laid out in his On the Origin of Species. Darwin drew on Mary's fossilized creatures as irrefutable evidence that life in the past was nothing like life in the present.

A story worthy of Dickens, The Fossil Hunter chronicles the life of this young girl, with dirt under her fingernails and not a shilling to buy dinner, who became a world-renowned paleontologist. Dickens himself said of Mary: "The carpenter's daughter has won a name for herself, and deserved to win it."

Here at last, Shelley Emling returns Mary Anning, of whom Stephen J. Gould remarked, is "probably the most important unsung (or inadequately sung) collecting force in the history of paleontology," to her deserved place in history.
Praise For The Fossil Hunter: Dinosaurs, Evolution, and the Woman Whose Discoveries Changed the World (MacSci)…
"Emling writes with a style that makes The Fossil Hunter very hard to put down before reaching the last page." —Winnepeg Free Press

"Readable, journalistic, Emling's amply footnoted book skillfully puts Anning's work into the scientific and sociological context." —The New York Times

"Released just weeks after Tracy Chevalier's fictional account of Anning's life, Emling's account pays tribute to Anning in an original and gripping historical biography." —Financial Times

"Dinosaurs are astonishing today -- and we've had several hundred years of biology to help us absorb the shock. Imagine the shock caused by these monster creatures discovered and presented by a poor, twelve-year old girl, in the early 19th century. This is the remarkable story that Emling tells so well, evoking a world far from ours that in just a few years took a destitute pre-teen scavenging the crumbling cliffs of Lyme Regis to the pages of the leading scientific journals of her time." —Peter Galison, author of Einstein's Clock's and Poincare's Maps and Joseph Pellegrino University Professor, Harvard University

"Shelley Emling vividly brings to life the fascinating story of Mary Anning, the greatest fossil hunter of the early nineteenth century. Anning single-handedly recovered an extraordinary collection of fossils of marine and flying reptiles that helped shape the way we now see the incredibly long history of life on Earth. With this enjoyable book, Emling gives Anning her deserved place in history." —Hans Sues, Associate Director of Research and Collections, National Museum of Natural History, Smithsonian Institution

"The Fossil Hunter at long last brings to life one of the central figures in the early golden age of paleontological discovery -- a woman of great diligence, and passion, and with a keen eye for fossil bone in the rock. As a young child, I was greatly inspired by Mary Anning. As an adult, working paleontologist, I remain so, a conviction doubtless reinforced by Shelley Emling's fascinating book." —Michael Novacek, Provost, American Museum of Natural History

"Emling does an excellent job of knitting together a highly readable title on her life, reaching into sources for Anning's contemporaries and scientific publications from the time which describes the fossils she found. It is rare that readers discover someone like them who changed the world. That's Mary Anning however, and as Shelley Emling shows, it wasn't easy. But she did it anyway and now, at last, we can appreciate how." —Bookslut

"Emling tells a fascinating tale. . . she marshals an immense amount of information about the world of 19th-century geology and paleontology, detailing the controversies about the meaning of the layers of rock and the increasing evidence that animals can indeed become extinct. . . Valuable because it trains a well-deserved spotlight on Anning, explicates some of the philosophical dilemmas of 19th-century science, and incidentally, also notes several other women who became expert fossil hunters and collectors." —The Washington Times

"A well-written book is one of the most effective, and enjoyable, ways to become acquainted with the women who made such gains in history, but have yet to be fully recognized for their significant contributions. Shelley Emling has written such a book." —National Women's History Project

"We know so much because of Mary Anning, but as Emling makes clear, we sadly know very little about Mary Anning, something the author does a wonderful job of changing here." —Bookslut

"In this breezy biography...the unlikely life story of uneducated, lower-class girl turned respected 19th-century paleontologist Mary Anning is, in Emling's hands, an inspiring one." —Bust
St. Martin's Griffin, 9780230103429, 256pp.
Publication Date: January 4, 2011
About the Author
Shelley Emling is a senior editor at The Huffington Post and, as a journalist for more than twenty years, her work, including science articles, has previously appeared in such outlets as The New York Times, Fortune, Slate, The Wall Street Journal, The Times, The Boston Globe, The Huffington Post, The Christian Science Monitor, and FoxNews.com. She covered Europe for six years for Cox Newspapers, a chain of 17 daily newspapers across the United States that includes The Atlanta Journal Constitution. She launched one of the first blogs for The International Herald Tribune, called 'Raising the Roof.' She lives in Montclair, New Jersey.