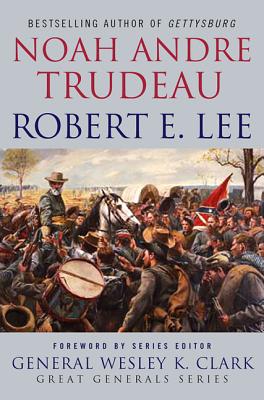 Robert E. Lee (Paperback)
Lessons in Leadership (Great Generals)
St. Martin's Griffin, 9780230103443, 256pp.
Publication Date: October 12, 2010
Other Editions of This Title:
Hardcover (9/1/2009)
Pre-Recorded Audio Player (9/1/2010)
MP3 CD (7/1/2010)
Compact Disc (6/1/2012)
Compact Disc (7/1/2010)
Audio Cassette (7/1/2010)
* Individual store prices may vary.
Description
General Robert E. Lee was a complicated man and military figure. From his birth as the son of a celebrated and tragic Revolutionary War hero, to his career after the Civil War when he led by example to heal the terrible wounds of the conflict, there is much to learn from this celebrated general. In just three years of service, he directed the Confederacy's most renowned fighting force, the famed Army of Northern Virginia, through a series of battles, including Second Manassas, Antietam, and Gettysburg, which have since come to define combat in the Civil War.
Here, for the first time, Noah Andre Trudeau follows the general's Civil War path with a special emphasis on Lee's changing set of personal values as the conflict wended through four bloody years and explores his famous skills as a crafty and daring tactician. An insightful new account, Robert E. Lee delivers a fresh perspective that leads to a greater understanding of one of the most studied and yet enigmatic military figures in American history.
About the Author
Noah Andre Trudeau is a Civil War historian who has written articles for Civil War Times Illustrated, Gettysburg Magazine, Blue and Gray, North & South, The Columbiad, America's Civil War, and Military History Quarterly. He has written six books on the subject, including the bestseller, Gettysburg and Like Men of War, which was honored with the Grady McWhiney Research Foundation's Jerry Coffey Memorial Book Prize. Formerly an executive producer at NPR, he lives in Washington, D.C.
Praise For Robert E. Lee: Lessons in Leadership (Great Generals)…
"Rejoice in a study of Lee that rigorously eschews both hagiography and psychobiography, and that definitely belongs in even the most modest Civil War collection." —Roland Green
"For a century after the death of Robert E. Lee in 1870, his image achieved iconic status in the South--and beyond. In recent decades, however, historians have discovered a flesh and blood Lee who is far more complex and interesting than the marble man of yore. Trudeau's fast-paced biography offers a well-rounded portrait of the real Robert E. Lee." —James M. McPherson, bestselling author of Battle Cry of Freedom
"Noah Andre Trudeau's Robert E. Lee offers an insightful portrait of one of America's greatest generals. In a brisk narrative, Trudeau delineates the personal and professional attributes of the famous Confederate leader. A reader will learn much in these pages about a fascinating, historic figure." —Jeffry D. Wert, author of Cavalryman of the Lost Cause: A Biography of J. E. B. Stuart
"A crisply-written and compelling biography of one of America's most celebrated soldiers. Trudeau's keen insights and considerable talents as a writer and historian make this book a must read for anyone wishing to understand Lee's remarkable military career and mastery of the battlefield." —W. Todd Groce, President and CEO, Georgia Historical Society, and author of Mountain Rebels: East Tennessee Confederates and the Civil War
"Trudeau's book on Robert E. Lee, however, is a triumph. Future additions to this series should use this book as a model. Trudeau – whose volume on Gettysburg is also an impressive accomplishment – conveys Lee's story in a brisk and accurate narrative. Anyone looking for an excellent introduction to Lee's life and career should begin with this book. Trudeau's account manages to omit nothing of consequence and to include enough fascinating detail to keep the interest of even the most jaded reader. Trudeau's analysis of Lee's decision-making is honest without being hypercritical. While there are no paradigm-shifting conclusions here, there are also no eyebrow-raising oddities or perplexing notions that often litter modern books on Civil War figures. Too many authors seem intent on grabbing readers' attention by tossing out concepts and theories that have not even the slightest basis in fact. Lee is – and shall ever remain – a towering figure in American history. Trudeau's biography opens the door to understanding this important leader, and helps readers to appreciate the man who became, through no fault or design of his own, a myth." —Civil War News