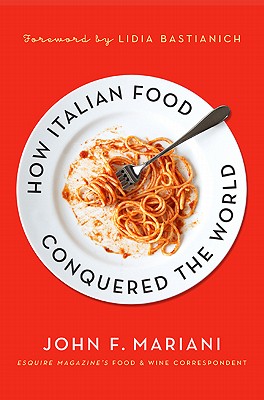 How Italian Food Conquered the World (Hardcover)
Palgrave MacMillan Trade, 9780230104396, 288pp.
Publication Date: March 15, 2011
Other Editions of This Title:
Paperback (5/22/2012)
* Individual store prices may vary.
Description
Not so long ago, Italian food was regarded as a poor man's gruel-little more than pizza, macaroni with sauce, and red wines in a box. Here, John Mariani shows how the Italian immigrants to America created, through perseverance and sheer necessity, an Italian-American food culture, and how it became a global obsession. The book begins with the Greek, Roman, and Middle Eastern culinary traditions before the boot-shaped peninsula was even called "Italy," then takes readers on a journey through Europe and across the ocean to America alongside the poor but hopeful Italian immigrants who slowly but surely won over the hearts and minds of Americans by way of their stomachs. Featuring evil villains such as the Atkins diet and French chefs, this is a rollicking tale of how Italian cuisine rose to its place as the most beloved fare in the world, through the lives of the people who led the charge.
With savory anecdotes from these top chefs and restaurateurs:
- Mario Batali
- Danny Meyer
- Tony Mantuano
- Michael Chiarello
- Giada de Laurentiis
- Giuseppe Cipriani
- Nigella Lawson
And the trials and triumphs of these restaurants:
- Da Silvano
- Spiaggia
- Bottega
- Union Square Cafe
- Maialino
- Rao's
- Babbo
- Il Cantinori.
About the Author
John Mariani is a food and travel columnist for "Esquire, "wine columnist for Bloomberg News," " has a newsletter that goes out to 40,000 subscribers. He has been called by "The" "Philadelphia Inquirer" "the most influential food-wine critic in the popular press." He is author of "The Encyclopedia of American Food & Drink, The Dictionary of Italian Food & Drink," and with his wife Galina, "The Italian-American Cookbook." He lives in Tuckahoe, New York.Lidia Bastianich is an American chef and restaurateur. Specializing in Italian and Croatian cuisine, she has been a regular contributor to the PBS cooking show lineup since 1998. In 2007, she launched her third TV series, "Lidia's Italy." She also owns four Italian restaurants in the U.S.: Felidia and Becco in Manhattan; Lidia's Pittsburgh in Pittsburgh, Pennsylvania; and Lidia's Kansas City in Kansas City, Missouri.
Praise For How Italian Food Conquered the World…
"An entertaining and fact-filled chronicle."-- Wall Street Journal
"Informative and entertaining examination of the rise of Italian cookery" -- Washington Post
"Eating Italian will never be the same after reading John Mariani's entertaining and savory gastronomical history of the cuisine of Italy and how it won over appetites worldwide." -- USA Today
"Informed and enlightening, loving and luscious."-- Kirkus Reviews
"Fact-filled, entertaining history." -- Publisher's Weekly
"A comprehensive and entertaining chronicle of Italian food, as much about colorful characters as ingredients." -- Everett Potter's Travel Report
"Making sense of Italian food's history is no small undertaking, but like any true professional, long-time Esquire Magazine food correspondent and legendary restaurant columnist Mariani handles the subject with ease." -- Booklist
"Mariani captures the history and elemental beauty of a cuisine that really does seem to appeal to more palates than any other... you owe it to yourself to read this book." -- Las Vegas Weekly
"John Mariani offers a full-course menu on the history of Italian cooking. The book has both a solid main course on changing food through the ages as well as tasty side dishes on Italian wine and the Mediterranean diet. To enjoy it properly, read the book with a glass of Vin Santo and a biscotti at your elbow."--George M. Taber, author of Judgment of Paris: California vs. France and the Historic 1976 Paris Tasting That Revolutionized Wine
"John Mariani's thoroughly researched book is a fantastic and fascinating read, covering everything from the influence of  Venice's spice trade to the impact of Italian immigrants in America and the evolution of alta cucina. This book will serve as a terrific resource to anyone interested in the real story of Italian food. Told in a conversational voice, Mariani knows his subject well and weaves a historical story rich in facts and traditions."—Mary Ann Esposito, host of PBS' "Ciao Italia," television's longest-running cooking show
"A mouthwatering, delectable and delightful romp through peasant kitchens and luxurious restaurants from Italy to the UK and America. Mariani is a cultural anthropologist, social historian and amiable dinner companion as he traces the evolution of Italian cuisine from the denigration to apotheosis."--Stanislao G. Pugliese, Queensboro Unico Distinguished Professor of Italian and Italian American Studies, Hofstra University and author of Bitter Spring: A Life of Ignazio Silone
"This is the book that John Mariani was born to write, and, quite frankly, I know of nobody else who has the rich family background, keen grasp of Italian culinary history, vast professional connections, and overall first-hand experience necessary to relate such a fascinating and important story.  I found myself reading this chronicle as if it were a novel packed full of intriguing events, unexpected developments, and a cast of colorful characters, and if you love great Italian food (and who doesn't?), you won't be able to put the book down."--James Villas, author of The Bacon Cookbook and Pig: King of the Southern Table
"Equal parts history, sociology, gastronomy, and just plain fun, How Italian Food Conquered the World tells the captivating and delicious story of (let's face it) everybody's favorite cuisine with clarity and verve and more than one surprise."—Colman Andrews, author, Ferran: The Inside Story of El Bulli and the Man Who Reinvented Food, and editorial director, The Daily Meal.com
"In this fascinating culinary and cultural tale, John F. Mariani details the imaginative genius of Italian-American chefs and restaurateurs who transformed restaurant meals from overcooked macaroni and jug wine into perfect bites of pasta al dente and heavenly sips of Barolo and Barbaresco, ensuring that Italian cuisine would be the envy of the world.  With a sweeping narrative that begins in ancient Rome and concludes with a behind-the-scenes look at today's trendiest restaurants, How Italian Food Conquered the World is a food lover's delight.  Raise la forchetta and dig in!"--Maria Laurino
"John Mariani has written the definitive history of the how the Italians won their way into our hearts, minds, and stomachs.  It's a story of pleasure over pomp and taste over technique. About the only territory they've left alone is Thanksgiving.  And come to think of it, in my family we'll be serving spaghetti with turkey meatballs this year."--Danny Meyer
"Beautifully told, food critic John Mariani weaves together a captivating chronicle of the rise of Italian cuisine, from the courage and ingenuity of poor immigrants to the sophistication and business-savvy of today's five-star chefs. A book to be savored."—Marchese Piero Antinori
"John Mariani's superb writing has captured perfectly the rise of Italian food throughout history, unraveling the evolution of a cuisine that confused the world before conquering it!
How Italian Food Conquered the World
will fascinate future generations who wish to know more about Italian food and wine culture."--Tony May, restaurateur and owner of San  Domenico and SD26 
Coverage from NPR
or
Not Currently Available for Direct Purchase