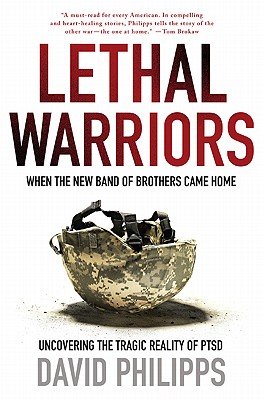 Lethal Warriors: When the New Band of Brothers Came Home (Hardcover)
When the New Band of Brothers Came Home
Palgrave Macmillan, 9780230104402, 288pp.
Publication Date: November 9, 2010
* Individual store prices may vary.
or
Not Currently Available for Direct Purchase
Description
When the 506th Infantry Regiment known since World War II as the Band of Brothers returned to Colorado Springs after their first tour in Iraq, a series of brutal crimes swept through the city. The Band of Brothers had been deployed to the most violent places in Iraq, and some of the soldiers were suffering from what they had seen and done in combat. Without much time to recover, they were sent back to the front lines. After their second tour of duty, the battalion was renamed the Lethal Warriors, and, true to their name, the soldiers once again brought the violence home.
"Lethal Warriors" brings to life the chilling true stories ofthese veterans from their enlistment and multiple tours of duty to their struggles with ptsd and their failure to reintegrate in society. Withpiercing insight andemploying his relentless investigative skills, journalist David Philipps shines a light not only to this particular unit, but also to the painful reality of ptsd as it rages throughout the country.
By exploring the evolving the science and the stigma of war trauma throughout history from shell shock to battle fatigue to combat stress injuries Philipps shows that this problem has always existed and that, as the nature of warfare changes, it is only getting worse. In highlighting the inspiring stories of the resilient men and women in the armed forces who have the courage to confront the issue and offer a potential lifeline to the soldiers, "Lethal Warriors" challenges us to deal openly, honestly, and intelligently with the true costs of war.
About the Author
David Philipps is an award-winning investigative journalist whose articles have also appeared in the "Los Angeles Times," the "Chicago Tribune," "The Philadelphia Inquirer," and "The Seattle Times," among others. His coverage of the violence at Fort Carson won him the Livingston Prize for National Reporting and he was a finalist for the Pulitzer Prize. This book was a finalist for the J. Anthony Lukas Work-in-Progress Award. He lives in Colorado Springs, Colorado.
Praise For Lethal Warriors: When the New Band of Brothers Came Home…
Praise for Lethal Warriors: 


"When the war started, almost a decade ago, we were told we had to fight it in Iraq and Afghanistan so that we wouldn't have to fight it at home. But as our soldiers return from battle, it has become increasingly clear that they are bringing the trauma of war to our doorstep. In exploring the creeping effects of PTSD and its heart wrenching consequences on our veterans, and on our society at large, Philipps' book is a clarion call to both support our troops and to think twice when assessing the true costs of war."-- Susan Sarandon 
"David Philipps'
Lethal Warriors
is a must-read for every American. In compelling and heart-healing stories, he tells the story of the other war--the one at home."--Tom Brokaw "A startling and compelling human drama that exposes the raw truth: that the cause of PTSD lies not within the soldier who suffers it, but in the nature of war itself, and what we ask them to endure. David Philipps shows that 'supporting our troops' must mean far more than cheering them on in the field. This book is a must for anyone who cares about our soldiers, the lives of those they touch, and what kind of a country we aspire to be." --Richard North Patterson, bestselling author of
Balance of Power
and
Exile
"This important and compassionate book will save lives. I found myself weeping with sympathy and sadness for both the murderers and their victims, and boiling with anger at the chain of neglect and ignorance, within and outside of the military, that led to murders that could have been avoided. This book needs to be read by the families of every returning combat veteran. It needs to be read by professionals in mental health institutions, the military, departments of veterans' affairs, and all leaders who care for the safety of their communities. It needs to be read by all of us who care about those who faithfully served those communities in war and returned forever changed." -- Karl Marlantes, bestselling author of Matterhorn
"Even for the survivors of close combat, the emotional impact can be devastating. David Philipps' heartbreaking book is a detailed and tragic record of this impact, and the Army's and society's struggles to deal with the consequences. Every American should read this book -- it is that significant for our Army, and for our country. " -- General Wesley K. Clark (ret.)
"In
Lethal Warriors
, Dave Philipps unravels one of the most horrifying stories of the Iraq War, the dark saga of the 4th Brigade of the 4th Infantry...Philipps' book has the promise that it may bring to life the devastating impact of the damage wrought by the Iraq War--violence that is even more disturbing because it takes place on the home front." 
--
Statement from the jury of the Anthony J. Lukas Awards
Praise for Dave Phillipps and "Casualties of War," published in July 2009 in the Colorado Springs Gazette:
"Staggering, gruesome and heartbreaking." -- On the Media, National Public Radio
"Jaw-dropping." -- Kyra Phillips, CNN
"Thoughtful, carefully researched, and beautifully written… It's the kind of story that wins Pulitzer Prizes, that illuminates and informs, and that delights all of us who work for and/or love newspapers." --
Colorado Business Journal
 "A fascinating and long overdue account of the consequences of the Iraq war on the soldiers who fought it, their families and the wider community."--Tim Pritchard, author of
Ambush Alley
 "A searing exposé that might make readers wonder how Army commanders and civilian warmongers sleep at night given the disgraceful handling of traumatized veterans who fought in Iraq."
--
Kirkus
Advertisement