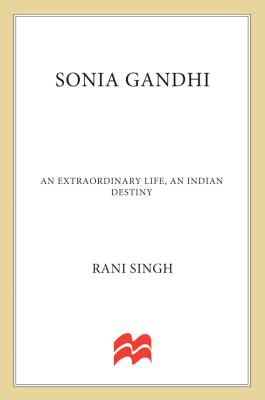 Sonia Gandhi (Hardcover)
An Extraordinary Life, an Indian Destiny
Palgrave MacMillan Trade, 9780230104419, 288pp.
Publication Date: September 13, 2011
* Individual store prices may vary.
Description
Sonia Gandhi's story represents the greatest transformational journey made by any world leader in the last four decades. Circumstance and tragedy, rather than ambition, paved her path to power. Born into a traditional, middle-class Italian family, Sonia met and fell in love with Rajiv Gandhi, son of future Indian prime minister Indira Gandhi and grandson of Jawaharlal Nehru, while studying English in Cambridge. Cruelly tested by the assassinations of her mother-in-law and of her husband, Sonia grew into a strong, authoritative but always private figure, now president of a coalition ruling over a billion people in the world's largest democracy. Through exclusive interviews with members of Sonia's party, political opponents and family friends, Rani Singh casts new light on Sonia. In the first mainstream biography of this inspirational figure, the author's compelling narrative retraces the path of the brave and beautiful Sonia Gandhi, examining what her life and legacy mean for India.
About the Author
Rani Singh is a London-based journalist who has worked with BBC television and radio for over 15 years. She is known for her investigative reports and documentaries from India and Pakistan. She commented on the region for CNN and NBC News, and has written for The Observer News Service, The Spectator, Lloyd's List, and The Huffington Post. Rani is an Ambassador for the Prince's Trust, which helps disadvantaged young people.
Praise For Sonia Gandhi: An Extraordinary Life, an Indian Destiny…
"Rani Singh's biography of Sonia Gandhi is an intimate and insightful portrait of an extraordinary woman... a compelling and important story of tragedy, family and a nation on an upward trajectory."-- Henry Kissinger, former Secretary of State
"Rani Singh has opened the door on one of the most powerful yet surprisingly little-known women in the world."
--Jon Snow, UK Newscaster
"A biography that isn't only carefully researched but offers new details about Sonia Gandhi's extraordinary emergence from obscurity to most powerful woman in Asia (and arguably in the world). Rani Singh tells Sonia's story in remarkably vivid prose -- tough but fair, critical but empathetic... an enormously readable work of scholarship and journalistic endurance." -- Pranay Gupte, author of Mother India: A Political Biography of Indira Gandhi
"Rani Singh's book draws back the curtain, allowing the reader to encounter Sonia as the person behind the larger-than-life figure that she is for India's millions. It is a highly readable and rewarding work for anyone interested in modern India and its contemporary politics."  --Ashley Tellis, Senior Associate at the Carnegie Endowment for International Peace
"Rani Singh weaves a compelling love story into the complexities of Indian politics with skill and sensitivity... If you want to understand modern India, you need to understand the Gandhis. Ms Singh has made an important and timely contribution." --Tim Marshall, Foreign Affairs Editor at Sky News
"A moving tribute... sets the scene for a thorough understanding of the fast-moving undertow affecting political life in India today, and of the critical influence of Sonia Gandhi." – James Brewer,business journalist and former editor of global insurance coverage for Lloyd's List
"A book of human scope that reveals an intriguing political history and a life of compassion" -- Kirkus Reviews
or
Not Currently Available for Direct Purchase