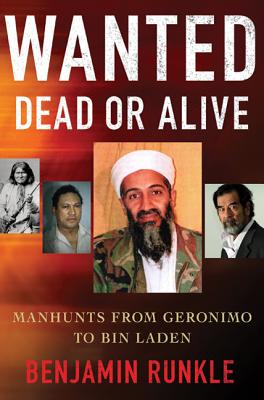 Wanted Dead or Alive: Manhunts from Geronimo to Bin Laden (Hardcover)
Manhunts from Geronimo to Bin Laden
Palgrave MacMillan, 9780230104853, 282pp.
Publication Date: August 2, 2011
* Individual store prices may vary.
or
Not Currently Available for Direct Purchase
Description
Early May 2011, in a dramatic late-night appearance at the White House, President Obama declared that "justice has been done" as he announced that Osama bin Laden was dead. After more than a decade of military operations across Central Asia and the Middle East, the Al Qaida leader who orchestrated the 9/11 terrorist attacks was finally killed in a firefight with U.S. Navy SEALs in Pakistan. Although this daring raid marked the end of the longest strategic manhunt in American history, bin Laden was not the first individual targeted as the objective of a military campaign. From Geronimo to Pancho Villa, to Manuel Noriega, to Saddam Hussein, the United States has deployed military forces to kill or capture a single person nearly a dozen times since 1885. Part military history, part action thriller, and part strategic policy analysis, "Wanted Dead or Alive" chronicles the extraordinary efforts of the military and intelligence agencies to bring America's enemies to justice.
About the Author
Benjamin Runkle is a former paratrooper and presidential speechwriter with a Harvard PhD and a Bronze Star from Operation Iraqi Freedom. He has worked in the Department of Defense and the National Security Council, and is currently a Professional Staff Member on the House Armed Services Committee. He lives in Virginia.
Praise For Wanted Dead or Alive: Manhunts from Geronimo to Bin Laden…
"Although there is no shortage of books about bin Laden, Runkle breaks new ground by putting his story in the context of earlier manhunts that are surely less familiar to most readers. [The book] may be most appealing to those with an interest in military history, but should also find favor with a broader readership drawn to lesser known episodes in the nation's past." -- Associated Press
"Runkle's 12 manhunts illustrate key features of counterinsurgency or asymmetrical warfare strategy, and indicate how America's military leadership, and its thinking, has been shaped through the succession of such hunts and campaigns . . . Going behind the headlines, Runkle provides worthwhile background and context for understanding current wars and how they are fought." -- Kirkus Reviews
"Ben Runkle's book is an exciting history of American manhunts, successful and not, and gives tantalizing glimpses of the role the Pakistani government have played in the hunt for Bin Laden." --Stephen Peter Rosen, Harvard University
"I... was captivated. Little did I know how much I did not know concerning U.S. military manhunts. Ben's book changed all that, it is a first-class contribution to our community of interest and practice." --Dave Dillegge, editor at Small Wars Journal
"Runkle  nailed it, expertly capturing the amazing chase of manhunting... the dangerous game of cat and mouse where the hunter manipulates the hunteds' social network, intercepts their chatter, and limits their freedom of movement - to ultimately take their life. A tall boy energy drink for our modern day specops warriors." --Dalton Fury, author of the New York Times Bestseller, Kill Bin Laden
"The successful Navy SEAL raid to kill bin Laden is one of many unforgettable stories of drama, tragedy, and courage Ben Runkle gives us in this page-turning and groundbreaking work of history... A work that will be embraced by readers of both military history and the best action thrillers."  – Eric Greitens, Navy SEAL officer and author of the New York Times Bestseller, The Heart and the Fist: The Education of a Humanitarian, the Making of a Navy SEAL.
"Going behind the headlines, Runkle provides worth-while background and context for understanding current wars and how they are fought." --Kirkus Reviews
Advertisement