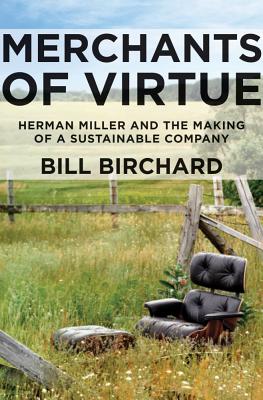 Merchants of Virtue (Hardcover)
Herman Miller and the Making of a Sustainable Company
Palgrave MacMillan, 9780230106604, 221pp.
Publication Date: August 15, 2011
* Individual store prices may vary.
Description
"Merchants of Virtue" is about a band of people who determined to make their company a good global citizen. Herman Miller has been looking at some of the critical questions of our time for the past 35 years. Is sustainable business sustainable? In an age where sustainability is key to future success, businesses must incorporate new strategies towards sustainability in order to give them the competitive edge. But, can employees in global companies make great products, take care of the environment, benefit society, and make good money all at the same time? The answer, as in so many stories of people working together, comes down to a principle of management. At Herman Miller, sustainability triumphs because people commit and recommit themselves to the guiding light of company values and in turn changed the world of business. Here author Bill Birchard goes deep inside the organization to find out how Herman Miller has been accomplishing this goal from the individuals who have become passionate about this topic to the designers who incorporate ideas of sustainability into every product they create. Birchard shares not only the stories but the details of how every this remarkable effort has been accomplished.
About the Author
Bill Birchard is a writer, author, and journalist. He has been writing books and articles for over 25 years. Since the mid-1980s, he has written about management, the environment, and self help. He was formerly editor of "Enterprise"," " a magazine for executives. Since the 1990s, he has written for "Fast Company, CFO, Chief Executive, Strategy + Business, " and other magazines.
Praise For Merchants of Virtue: Herman Miller and the Making of a Sustainable Company…
"Herman Miller has shown extraordinary leadership as a catalyst for industry. Its sustainability strategies for architecture, buildings, and furniture set a standard we feel honored to have helped shape and spread to others. This book tells the story of how Herman Miller charted an innovative path, and shows the temerity of its people to stay on that path." --William McDonough, designer and co-author of Cradle to Cradle
"Merchants of Virtue is a business story for our times. An AMERICAN story, of risk taking, vision, values, and pluck. Before all the management fashions of our era -- TQM, design thinking, zero footprint, values statements -- there was Herman Miller. Let Bill Birchard show you how this Midwest manufacturer led the way to sustainability, and wash away a grinding decade of cynicism and greed." --Judith Samuelson, Executive Director, Business and Society Program, The Aspen Institute
"Bill Birchard's excellent chronicle of the Herman Miller story brings to light some critical lessons for any company focused on embedding sustainability in it's core strategy:  Never give in to compromise solutions; seek to shatter apparent trade-offs; draw from the wellspring of enduring corporate values; and challenge people in the company to take personal responsibility.  Perhaps most importantly, Merchants of Virtue shows us that the pursuit of corporate sustainability is not easy.  Like anything worth pursuing, only the creative and committed will succeed."  —Stuart L. Hart, S. C. Johnson Chair in Sustainable Global Enterprise, Cornell University and Author of Capitalism at the Crossroads
"In Merchants of Virtue the author shows that innovation at Herman Miller extends well beyond new product development, training and developing people. It was no surprise to me that they implemented the EVA Management System right down to the shop floor even on Day One.  This insightful story about their journey with business sustainability efforts puts them  up there with the other cutting edge organizations."  —Joel M. Stern, Chairman and CEO, Stern Stewart & Co. and, Stern Stewart Capital Partners
"While manufacturing may be a dying art in the United States, this book illustrates how one company can do well by its shareholders, employees, society, and the environment--and still turn heads with its products. Herman Miller's sustainable sojourn is a remarkable story, capably told." --Library Journal
or
Not Currently Available for Direct Purchase