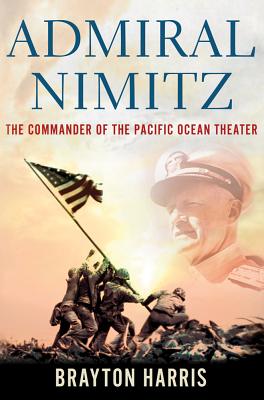 Admiral Nimitz: The Commander of the Pacific Ocean Theater: The Commander of the Pacific Ocean Theater (Hardcover)
The Commander of the Pacific Ocean Theater: The Commander of the Pacific Ocean Theater
St. Martin's Press, 9780230107656, 256pp.
Publication Date: January 3, 2012
Description
Chester Nimitz was an admiral's Admiral, considered by many to be the greatest naval leader of the last century. After the attack on Pearl Harbor, Nimitz assembled the forces, selected the leaders, and - as commander of all U.S. and Allied air, land, and sea forces in the Pacific Ocean - led the charge one island at a time, one battle at a time, toward victory. A brilliant strategist, he astounded contemporaries by achieving military victories against fantastic odds, outpacing more flamboyant luminaries like General Douglas MacArthur and Admiral "Bull" Halsey. And he was there to accept, on behalf of the United States, the surrender of the Japanese aboard the battleship USS Missouri in August 1945. In this first biography in over three decades, Brayton Harris uses long-overlooked files and recently declassified documents to bring to life one of America's greatest wartime heroes.
About the Author
Brayton Harris is a retired navy captain, and the author of numerous books, including "Blue & Gray in Black & White: Newspapers in the Civil War" and "The Navy Times Book of Submarines: A Political, Social, and Military History." He has been a guest on the "Today" show. His articles have appeared in the "Saturday Review," "Civil War," and "Proceedings" of the U.S. Naval Institute, among others. He lives in Mission Hills, Kansas.
Praise For Admiral Nimitz: The Commander of the Pacific Ocean Theater: The Commander of the Pacific Ocean Theater…
"A thorough review of the naval hero's life, from beginning to end."—The Associated Press
"A military historian's look at...every stage of Nimitz's era-straddling career...An introduction to the Navy's senior hero of WWII. For military buffs, surely!"—
Kirkus Reviews
"Mr. Harris has done an admirable job…a great story of leadership…the author's use of a large number of oral histories lends significant color to the book."—The Washington Post
"A must for any U.S. naval collection."--Booklist
"In this fresh new biography, Brayton Harris puts flesh on the bones of an icon and shows us how and why Chester Nimitz became the irreplaceable leader—in both war and peace."—J. William Middendorf II, Secretary of the Navy
"Calm, clear-headed, decisive--Admiral Nimitz was a God-send to the U.S. Navy and the Allied cause in World War II. Brayton Harris has written a compelling biography of a low-key hero."--Evan Thomas, author of Sea of Thunder and John Paul Jones
"Admiral Nimitz is a superbly written biography of one of the towering but least known heroes of World War II. A brilliant strategist who never sought the limelight, Chester Nimitz was an incomparable leader who served America brilliantly throughout the war in the Pacific and has earned a place in history as one of our greatest naval officers."--Carlo D'Este, author of Eisenhower and Patton
"In the skilled hands of Brayton Harris, the biography of one of our nation's greatest Naval leaders comes to life and jumps off the page as if you were reading stories about your own grandfather. Harris has a knack for finding the details, the anecdotes, that build a comprehensive portrait. Read it for the pure joy of getting to know Admiral Nimitz."--Gregory A. Freeman, author of The Forgotten 500 and Troubled Water
"Rarely have a biographer and his subject been so wonderfully matched. Admiral Nimitz: The Commander of the Pacific Ocean Theater is meticulously researched, immensely informative, and laudably balanced in all of its judgments. The book is not only a valuable addition to U.S. naval history, it is a thoroughly pleasurable and immensely satisfying biography."--Alan Axelrod, author of A Savage Empire: Trappers, Traders, Tribes, and the Wars That Made America and Patton: A Biography
  Praise for
Blue & Gray in Black & White
:
"A lively account of Civil War reporting."—
Boston Globe
"Concise and well-written . . . it brings the role of the press in the war to vivid life."—
Library Journal
Advertisement