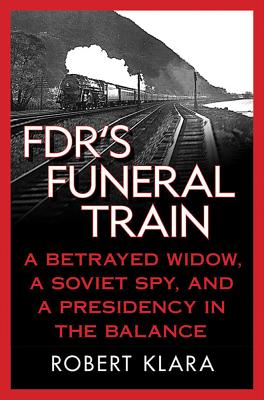 FDR's Funeral Train (Paperback)
A Betrayed Widow, a Soviet Spy, and a Presidency in the Balance
St. Martin's Griffin, 9780230108035, 272pp.
Publication Date: June 21, 2011
Other Editions of This Title:
Hardcover (3/16/2010)
* Individual store prices may vary.
Description
Weaving together information from long-forgotten diaries and declassified Secret Service documents, journalist and historian Robert Klara exposes the private tensions and conflicts of a journey long shrouded in mystery.
In April 1945, the funeral train carrying the body of Franklin D. Roosevelt embarked on a three-day, thousand-mile odyssey through nine states before reaching the president's home where he was buried. Many who would recall the journey later would agree it was a foolhardy idea to start with - putting every important elected figure in Washington on a single train during the biggest war in history.
For the American people, of course, the funeral train was just that - the train bearing the body of deceased FDR. It passed with darkened windows; few gave thought to what might be happening aboard. A closer look inside the train, however, would reveal a Soviet spy about to leak a state secret, a newly widowed Eleanor Roosevelt who just found out that her husband's mistress was in the room when he died, and the entire family of incoming president Harry S. Truman.
The thrilling story of what took place behind the Pullman shades, where women whispered and men tossed back highballs, has never been told. On the occasion of the sixty-fifth anniversary of FDR's death, Klara chronicles the action-packed three-day train ride during which, among other things, Truman hammered out the policies that would galvanize a country in mourning and win the Second World War.
About the Author
ROBERT KLARA is the author of the critically acclaimed FDR's Funeral Train and The Hidden White House. His unveiling of the private world of the famous funeral train was hailed as "a major new contribution to U.S. history" by Douglas Brinkley. His second book, a dramatic account of Truman's fight to save the White House, was called "popular history at its best" (The Christian Science Monitor). His writing has appeared in The New York Times, among other publications.
Praise For FDR's Funeral Train: A Betrayed Widow, a Soviet Spy, and a Presidency in the Balance…
"Klara revives a long-forgotten event with precision and pathos, allowing readers a coveted Pullman berth for a ride through three of this country's darkest yet most formative days." —Gay Talese, author of A Writer's Life
"A riveting, sumptuously detailed look inside a luxurious, mysterious private train swaying from one presidency to another--the picture windows in its last car showcasing a bronze coffin to thousands of trackside mourners ignorant of the vivid tensions in the cars ahead." —John Stilgoe, Robert and Lois Orchard Professor in the History of Landscape, Harvard University and author of Outside Lies Magic: Discovering History and Inspiration in Ordinary Places
"Robert Klara's FDR's Funeral Train is a well-written and vivid account of America's greatest national mourning since Abraham Lincoln was shot. Every page here is illuminating. At times Klara practically transports the reader back to 1945. A major new contribution to U.S. history." —Douglas Brinkley is author of The Wilderness Warrior: Theodore Roosevelt and the Crusade for America
"No fan of FDR and his presidency can afford to pass up this book. Robert Klara takes you inside FDR's funeral train, and into the minds and hearts of those who made the president's last journey with him. Klara offers a unique, never-before-told perspective on the sudden transfer of power, the players who wanted to grab some of that power and the widow whose grief was tinged with the bitter taste of betrayal. A remarkable story by a true storyteller." —Lorraine Diehl, author of The Late, Great Pennsylvania Station
"No one in 1945, friend or enemy, was unmoved by the death of Franklin D. Roosevelt, after his dozen critical years in the White House. FDR's Funeral Train vividly recalls the nerve-racking week behind the headlines, when his family and his government rose above a trainload of personal problems to help the nation across the chasm left by his demise. An exciting addition to the Roosevelt bookshelf, Klara's book is overflowing with the stuff that every history reader craves - fresh, original research." —Julie Fenster, author of The Case of Abraham Lincoln and FDR's Shadow
"With great skill and riveting detail, Robert Klara uses a three day train journey to provide readers with a fascinating glimpse into the inner-workings of the Washington elite in the days after FDR's death. This fast-paced narrative is filled with vivid portraits and plenty of intrigue. It also manages to shed new light on a critical moment in our nation's history." —Steve Gillon, author of 10 Days That Unexpectedly Changed America and Resident Historian, The History Channel
"An intriguing account of FDR's last journey and a must read for all those still caught up in the romance and mystery of rail travel" —David B Woolner, Senior Fellow, Roosevelt Institute and Associate Professor of History, Marist College
"FDR's Funeral Train is a fascinating tale well told. Hop aboard with the skilled storyteller Robert Klara. You'll be glad you did." —James Bradley, author of Flags of our Fathers and Flyboys
"Klara charms as he informs. A little gem." —Kirkus (starred review)
"Evocative account of the sometimes awkward juxtaposition of those who had served and now mourned one president and those who were eager to begin working for, and influencing, another." —Asbury Park Press
"A riveting tale of how several railroads brought Franklin D. Roosevelt's body home." —Trainstalk
"A book that reveals much of the heretofore hidden angst and intrigue that had accompanied a dead president on his final journey back home." —Charlottesville Daily Progress
"Klara, a veteran reporter, has put together a thrilling piece of history. Sixty-five years after FDR's death, Klara has managed to provide a fresh look at history as well as the political landscape of the 21st century." —The Daily Beast