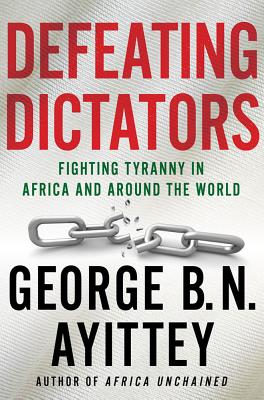 Defeating Dictators: Fighting Tyranny in Africa and Around the World (Hardcover)
Fighting Tyranny in Africa and Around the World
Palgrave MacMillan, 9780230108592, 282pp.
Publication Date: November 8, 2011
* Individual store prices may vary.
or
Not Currently Available for Direct Purchase
Description
Despite billions of dollars of aid and the best efforts of the international community to improve economies and bolster democracy across Africa, violent dictatorships persist. As a result, millions have died, economies are in shambles, and whole states are on the brink of collapse. Political observers and policymakers are starting to believe that economic aid is not the key to saving Africa. So what does the continent need to do to throw off the shackles of militant rule? African policy expert George Ayittey argues that before Africa can prosper, she must be free. Taking a hard look at the fight against dictatorships around the world, from Ukraine's orange revolution in 2004 to Iran's Green Revolution last year, he examines what strategies worked in the struggle to establish democracy through revolution. Ayittey also offers strategies for the West to help Africa in her quest for freedom, including smarter sanctions and establishing fellowships for African students.
About the Author
Dr. George Ayittey was named one of "Foreign Policy's" Top Global Thinkers in 2009 and is an advisor to the Obama administration on forging a new path for Africa. He is the author of "Africa Unchained, " "Africa"" in Chaos, "and "Africa Betrayed," which won the H.L. Mencken Award for Best Book. Ayittey has written for "The Wall Street Journal," "The Washington Post," and "The Times of London," among others, and has appeared on such media as ABC "Nightline," PBS "NewsHour," and CNN. He is also the founder and president of the Free Africa Foundation and professor economics at American University.
Advertisement