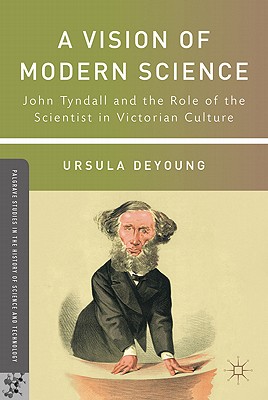 A Vision of Modern Science
John Tyndall and the Role of the Scientist in Victorian Culture (Palgrave Studies in the History of Science and Technology)
Hardcover

* Individual store prices may vary.
Other Editions of This Title:
Paperback (2/7/2011)
Description
An examination of a pivotal moment in the history of science through the career and cultural impact of the historically neglected Victorian physicist John Tyndall, establishing him as an important figure of the period, whose scientific discoveries and philosophy of science in society are still relevant today.
Praise For A Vision of Modern Science: John Tyndall and the Role of the Scientist in Victorian Culture (Palgrave Studies in the History of Science and Technology)…
"De Young's strategy, by and large, is to trance the genealogy of ideas and arguments. She sets out to trace the pedigree of debates and situate them in the intellectual culture of the age. The emphasis, therefore, is on reading and philosophical exchange." - Victorian Studies

"Beautifully written and extensively rich in detail, A Vision of Modern Science sets out to show how Tyndall redefined both popular and specialist notions of science during the Victorian period. DeYoung has made an important contribution to the history of science by reminding scholars of the significant role Tyndall played in the development of science. Her book should therefore be considered the go-to biography of this important historical figure." - Isis

"In her book-length study of an important - but somewhat neglected - Victorian physicist, Ursula DeYoung has illuminated the many facets of John Tyndall's life and thought. The heart of the book is her compelling insight into the central irony of Tyndall's career: his success in changing the nature of science, and redefining its place in British culture, was achieved at the cost of his own reputation. Engaging and challenging, this is an important contribution to our understanding of how Tyndall's generation transformed science forever." - Bernard Lightman, Science and Technology Studies, York University, author of Victorian Popularizers of Science

"Compared to Humphry Davy and Michael Faraday, his predecessors at the Royal Institution, John Tyndall has been neglected in the historical literature. DeYoung provides a much needed corrective which above all shows the crucial role that Tyndall played in developing our idea of what constitutes modern science and its place in society." - Frank A. J. L. James, Professor of the History of Science at the Royal Institution, London
Palgrave MacMillan, 9780230110533, 270pp.
Publication Date: February 7, 2011
About the Author
Paul N. Bloom (Duke University) Edward Skloot (Duke University) Brett Smith (Miami University Funda Sezgi (IESE) Johanna Mair (IESE) Srikant M. Datar (Harvard University) Marc J. Epstein (Rice University) Kristi Yuthas (Portland State University) Debra E. Meyerson (Stanford University) Alexander Berger (Stanford University) Rand Quinn (Stanford University) John Elkington (Volans) Pamela Hartigan (Oxford University) Alejandro Litovsky (Volans) Jon Huggett (University of New South Wales) Scott L. Newbert (Villanova University) Ronald Paul Hill (Villanova University) Imran Chowdhury (ESSEC) Filipe Santos (INSEAD) Lauren Trabold (Baruch College) Paul Bloom (Duke University) Lauren Block (Baruch College) Minette E. Drumwright (University of Texas) Mercedes Duchicela (University of Texas) David T. Robinson (Duke University) Cornelia Pechmann (University of California, Irvine) J. Craig Andrews (Marquette University)