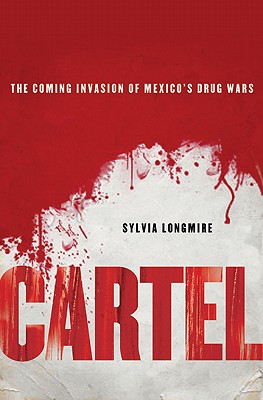 Cartel (Hardcover)
The Coming Invasion of Mexico's Drug Wars
Palgrave MacMillan, 9780230111370, 246pp.
Publication Date: September 27, 2011
Other Editions of This Title:
Paperback (10/1/2013)
Paperback, Spanish (12/19/2012)
* Individual store prices may vary.
Description
Having followed Mexico's cartels for years, border security expert Sylvia Longmire takes us deep into the heart of their world to witness a dangerous underground that will do whatever it takes to deliver drugs to a willing audience of American consumers. The cartels have grown increasingly bold in recent years, building submarines to move up the coast of Central America and digging elaborate tunnels that both move drugs north and carry cash and U.S. high-powered assault weapons back to fuel the drug war. Channeling her long experience working on border issues, Longmire brings to life the very real threat of Mexican cartels operating not just along the southwest border, but deep inside every corner of the United States. She also offers real solutions to the critical problems facing Mexico and the United States, including programs to deter youth in Mexico from joining the cartels and changing drug laws on both sides of the border.
About the Author
Sylvia Longmire was a Special Agent in the Air Force and a senior intelligence analyst for the state of California. She has been interviewed on "Geraldo at Large," CNN and CNN International, BBC World Radio, and her writing is regularly featured in "Homeland Security Today" magazine. Currently, Longmire is an independent consultant, and testifies as an expert witness on U.S. asylum cases.
Praise For Cartel: The Coming Invasion of Mexico's Drug Wars…
"Longmire offers fresh insights into almost every facet of the war on drugs . . . One-stop shopping for basic knowledge about U.S.-Mexican narcotics diplomacy." -- Kirkus Reviews
"In Cartel  Sylvia Longmire furthers our understanding of a very complex health and national security issue south of the border and within the United States itself."--Malcolm Beith, author of The Last Narco
"Cartel is a well-balanced blend of organized crime 101 and thought-provoking analysis of the current violence in Mexico. It's an important addition to the current body of work on the criminal underworld that continues to spread its presence and influence north of the border into the United States. Readers will find themselves on the front line of this decades-old drug war that has finally crossed our border--Samuel Logan, author of This is for Mara Salvatrucha
"There's a real need for an easy-to-read, one-stop-shopping overview of the myriad issues facing us from Mexico's cartels. Longmire allows people to finally have the context to make sense of the drug war."--Nicholas Stein, Series Producer, National Geographic's Border Wars
"Longmire's hard hitting, law enforcement-centered view of the situation on our border with Mexico is valuable and timely. Her up-to-the-minute, fact based account provides a much needed perspective on a problem that has been hijacked by exaggeration, and hyperbole and outright misinformation. It should be required reading for all who care about making our borders more secure."--Terry Goddard, former Arizona Attorney General 2003-2011
"From an experienced cartel analyst and special agent, this is a powerful and very comprehensive look into the broad scope of Mexican drug violence and its impact on the security of our nation.  One of the best books I've seen to understand Mexican cartels, border violence, drug trafficking and the ramifications of spill-over crime into America.  I encourage you to read this book."--Fred Burton, VP Intelligence, Stratfor, and author of Chasing Shadows
"The insights here are invaluable—and essential. Longmire's depth of knowledge and analysis come in well-crafted prose that's as thrilling to read as any novel and compelling for even the most casual reader."--David Silverberg, Editor, Homeland Security Today
or
Not Currently Available for Direct Purchase