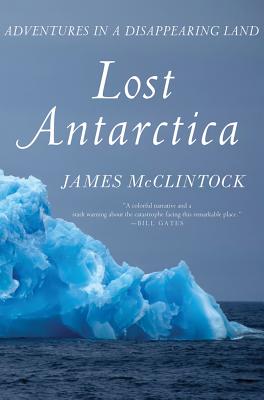 Lost Antarctica
Adventures in a Disappearing Land
Hardcover

* Individual store prices may vary.
Other Editions of This Title:
Paperback (1/7/2014)
Description
The bitter cold and three months a year without sunlight make Antarctica virtually uninhabitable for humans. Yet a world of extraordinary wildlife persists in these harsh conditions, including leopard seals, giant squid, 50-foot algae, sea spiders, coral, multicolored sea stars, and giant predatory worms. Now, as temperatures rise, this fragile ecosystem is under attack. In this closely observed account, one of the world's foremost experts on Antarctica gives us a highly original and distinctive look at a world that we're losing.
Praise For Lost Antarctica: Adventures in a Disappearing Land…
"McClintock offers a vivid portrait."--The Washington Post
"A veteran of the extreme south, McClintock shares the otherworldly wonders unveiled by decades of research. The book is packed with joys."--Nature
"A close look at the life of a scientist in a strange wilderness for months at a time, and a revelatory exploration of the region's unique wildlife… McClintock is a determined, evenhanded guide."—Smithsonian magazine
"A richly informative memoir from a veteran scientist who has devoted his career to Antarctica . . . Entertaining natural history."--Kirkus Reviews
"An entertaining account."--The Austin-American Statesman
"With rare clarity, humor, high adventure and deep, sobering insight, gifted scientist-explorer-writer James McClintock shares decades of experience on, around and under the wildest ocean on Earth.  Every person alive should read- and heed- this riveting account of the swift  changes now sweeping Antarctica – and the world. If Indiana Jones were a marine biologist, he would aspire to be James McClintock."--Sylvia Earle, National Geographic Explorer-in-Residence and founder of Deep Search
"James B. McClintock's Lost Antarctica is a disturbing distress signal about the traumas and strains of the South Pole in the Age of Global Warming. McClintock is a marvelous writer with a keen eye for the natural world. His knowledge of polar science is exemplary. Highly recommended!"--Douglas Brinkley author of The Quiet World and The Wilderness Warrior
"Lost Antarctica is a very original, readable, and authoritative introduction to a little known part of Earth's natural environment, and has increasing threat to its existence."— Edward O. Wilson
"Lost Antarctica is an intimate tour of a rapidly changing continent, led by one of the scientists who knows it best. James McClintock has written an important and timely book"-- Elizabeth Kolbert
"James McClintock shares his deep love of Antarctica vividly in this colorful narrative.  He issues a stark warning about the catastrophe facing this remarkable place - and our globe - from the twin dangers of climate change and ocean acidification.  Lost Antarctica reminds us of the urgency of finding new energy systems that do not use our atmosphere or oceans as a waste dump."-- Bill Gates
"Jim McClintock takes us with him on an extraordinary field trip to Antarctica, the frigid part of the Garden of Eden. With superb descriptions of the ice and biosphere of the great white continent, he carefully documents how climate change is having a big impact on the penguins, seals and other sea creatures that inhabit the polar waters."--Henry Pollack, Ph.D., author of A World without Ice
"Jim McClintock is a great scientist and explorer/naturalist in the tradition of Darwin and Wilson. The stories he tells are fascinating in their scientific detail and recollections, and cautionary in their implications."--Hugh Ducklow, PhD. Director of the Ecosystems Center at the Marine Biological Laboratory (MBL) at Woods Hole, Massachusetts
Palgrave MacMillan, 9780230112452, 231pp.
Publication Date: September 18, 2012
About the Author
James B. McClintock is one of the world's foremost experts on Antarctica, and currently the Antarctic Marine Biologist Professor of Polar and Marine Biology at the University of Alabama at Birmingham. McClintock has appeared on local, national, and international public radio, CNN news, and the Weather Channel. He has been quoted in National Geographic Magazine, Discover Magazine, the Los Angeles Times, the Chicago Tribune, the Wall Street Journal, and others. "McClintock Point," a piece of land on the north side of the entrance of Explorer's Cove on the Scott Coast of the Ross Sea, Antarctica, was named in honor of his research.
or
Not Currently Available for Direct Purchase