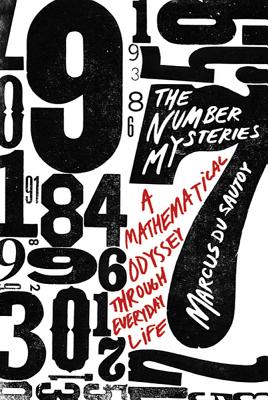 The Number Mysteries (Paperback)
A Mathematical Odyssey through Everyday Life (MacSci)
St. Martin's Griffin, 9780230113848, 272pp.
Publication Date: May 24, 2011
Other Editions of This Title:
Paperback (3/1/2011)
* Individual store prices may vary.
Description
Every time we download music, take a flight across the Atlantic or talk on our cell phones, we are relying on great mathematical inventions. In The Number Mysteries, one of our generation's foremost mathematicians Marcus du Sautoy offers a playful and accessible examination of numbers and how, despite efforts of the greatest minds, the most fundamental puzzles of nature remain unsolved. Du Sautoy tells about the quest to predict the future—from the flight of asteroids to an impending storm, from bending a ball like Beckham to forecasting population growth. He brings to life the beauty behind five mathematical puzzles that have contributed to our understanding of the world around us and have helped develop the technology to cope with it. With loads of games to play and puzzles to solve, this is a math book for everyone.
About the Author
Marcus du Sautoy is a professor of mathematics at the University of Oxford and currently holds the same chair that Richard Dawkins once did. He is active in reaching out the public, speaking at TED Conferences, writing for The Times (London) and The Guardian, and has appeared in specials on both BBC and PBS. He is the author of The Music of the Primes and Symmetry: A Journey into the Patterns of Nature. He has been named one of the UK's leading scientists by The Independent on Sunday and in 2001 he won the Berwick Prize of the London Mathematical Society, which is awarded every two years to reward the best mathematical research by a mathematician under forty.
Praise For The Number Mysteries: A Mathematical Odyssey through Everyday Life (MacSci)…
"Marcus du Sautoy's love for numbers glows on every page. Marcus du Sautoy is the Steve Irwin of the number kingdom." —Richard Dawkins, author of The God Delusion
"A superb book about everything from numbers to shapes, to chaos, to codes, from a very able mathematician." —Amir D. Aczel, author of Fermat's Last Theorem