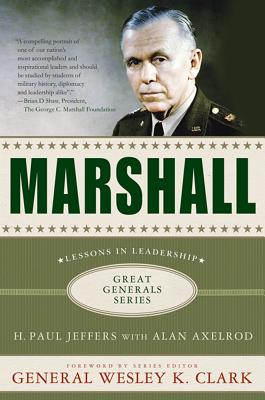 Marshall (Paperback)
Lessons in Leadership (Great Generals)
St. Martin's Griffin, 9780230114258, 224pp.
Publication Date: October 25, 2011
* Individual store prices may vary.
Description
General George C. Marshall was a skillful and compassionate leader with a unique legacy. He never fired a shot during WWII and led no troops into battle—his brilliance was purely strategic and diplomatic, and incredibly effective. He was responsible for the building, supplying, and, in part, the deployment of over eight million soldiers. In 1947, as Secretary of State, he created the Marshall Plan, a sweeping economic recovery effort that pulled the war-shattered European nations out of ruin, and gave impetus to NATO and the European Common Market. It was for the Marshall Plan that he won the Nobel Peace Prize—the only time in history a military commander has ever been awarded this honor.
Marshall's skilled combination of military strategy and politics, emphasis on planning as well as execution, and his expertise in nation-building holds lessons for military and civilian leaders today.
About the Author
H. Paul Jeffers (1934-2009) was an established military historian and author of seventy books. He worked as an editor and producer at ABC, CBS and NBC, and is the only person to have been news director of both of New York City's all-news radio stations. He taught journalism at New York University, Syracuse University, and Boston University. His books include the novels A Grand Night for Murder and What Mommy Said, and the nonfiction Marshall: Lessons in Leadership with Alan Axelrod. He lived in New York, NY.

Historian Alan Axelrod is the author of the business bestsellers Patton on Leadership and Elizabeth I, CEO, the Great Generals series books Patton, Bradley, and Marshall, and many books on American and military history. He lives in Atlanta, Georgia.

General Wesley K. Clark served in the United States Army for thirty-four years and rose to the rank of four-star general as NATO's Supreme Allied Commander, Europe. He is author of the best selling books Waging Modern War and Winning Modern Wars. He lives in Little Rock, Arkansas.
Praise For Marshall: Lessons in Leadership (Great Generals)…
"Jeffers presents a compelling portrait of one of our nation's most accomplished and inspirational leaders. His book should be studied by students of military history, diplomacy and leadership alike." —Brian D. Shaw, President, The George C. Marshall Foundation
"Jeffers adds to an already stellar reputation with this concise biography of one of the nations' top military figures. Jeffers shows how Marshall's love of country and emphasis on teamwork held together a wartime coalition often threatened by the explosive personalities of Patton, Montgomery, and others. In doing so, Marshall made as significant a contribution to victory as any field commander." —John Wukovits, author of One Square Mile of Hell: The Battle for Tarawa
"An excellent introduction to a man whose service to his nation will remain the measure for generations to come." —Kenneth Mandel, Emmy-winning director of George Marshall and the American Century