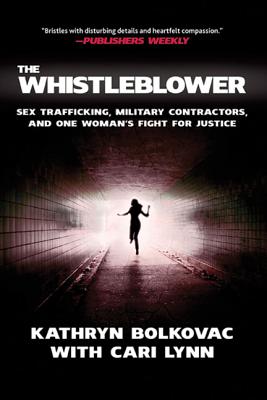 The Whistleblower
Sex Trafficking, Military Contractors, and One Woman's Fight for Justice
Paperback

* Individual store prices may vary.
Other Editions of This Title:
Hardcover (1/4/2011)
Description
When Nebraska police officer and divorced mother of three Kathryn Bolkovac saw a recruiting announcement for private military contractor DynCorp International, she applied and was hired. Good money, world travel, and the chance to help rebuild a war-torn country sounded like the perfect job. Bolkovac was shipped out to Bosnia, where DynCorp had been contracted to support the UN peacekeeping mission. She was assigned as a human rights investigator, heading the gender affairs unit. The lack of proper training provided sounded the first alarm bell, but once she arrived in Sarajevo, she found out that things were a lot worse. At great risk to her personal safety, she began to unravel the ugly truth about officers involved in human trafficking and forced prostitution and their connections to private mercenary contractors, the UN, and the U.S. State Department. After bringing this evidence to light, Bolkovac was demoted, felt threatened with bodily harm, was fired, and ultimately forced to flee the country under cover of darkness—bringing the incriminating documents with her. Thanks to the evidence she collected, she won a lawsuit against DynCorp, finally exposing them for what they had done. This is her story and the story of the women she helped achieve justice for.
Praise For The Whistleblower: Sex Trafficking, Military Contractors, and One Woman's Fight for Justice…
"Kathy is a remarkable woman who had the courage to tell the truth and stand up for the victims of sex trafficking, putting her own life on the line. I was deeply moved by her story and hope her voice will be heard, raising awareness about the tragic consequences of war." —Rachel Weisz

"Most galling is the sad truth that DynCorp answered to no law, nor to the military, the U.S., or the Bosnians…Infuriating and heartbreaking." —Booklist

"Bristles with disturbing details and heartfelt compassion." —Publishers Weekly

"Bolkovac and co-author Lynn successfully evoke the paranoid atmosphere of a suspense film…the authors shine a light on a neglected area of widespread human suffering…Along with the film adaptation, this book will hopefully draw attention to an underreported tragedy." —Kirkus

"Women and girls trafficked into Bosnia and Herzegovina's brothels endured debt bondage, rape, and beatings. International police and peacekeeping forces should have protected these victims. Instead, some committed trafficking crimes. Kathy Bolkovac bravely blew the whistle on them. She paid a high price in her career, but had the integrity to take a stand against grave human rights abuses." —Janet Walsh, Deputy Director, Women's Rights Division of Human Rights Watch

"Rape and forced prostitution perpetrated on a pervasive, ongoing scale by police, military, and other groups protected by regional and even national governments continue to occur into the 21st century. Regrettably, and quite amazingly, these violent and degrading events do not receive the attention and universal condemnation that a civilized society should demand. Kathryn Bolkovac and Cari Lynn have demonstrated great personal courage and admirable moral strength in addressing such egregious conduct in The Whistleblower. A highly disturbing and fascinating expose' based upon frightening real life experiences." —Dr. Cyril Wecht, nationally acclaimed forensic pathologist and author of Mortal Evidence

"A true story of suspense by a former Nebraska police officer who went to work for a private contractor in Bosnia. There she discovered human-rights violations, including a network of sex trafficking, and fought to bring down its perpetrators, no matter who they were. It's a tale of cover-ups, scapegoats, greed and indifference. And learning that the abuses continued will make readers crazy." —Omaha World-Herald
St. Martin's Griffin, 9780230115224, 256pp.
Publication Date: June 21, 2011
About the Author
Kathryn Bolkovac is a former police investigator from Nebraska who served as an International Police Task Force human rights investigator in Bosnia. She cooperated with Human Rights Watch to expose the misconduct and human rights abuses committed against young girls, forced into prostitution and used as sex slaves by U.S. military contractors such as DynCorp and other UN-related police and international organizations. She is the co-author of The Whistleblower, and lives in Lincoln, Nebraska, and Amsterdam, the Netherlands.

Cari Lynn is the author of three books of narrative nonfiction, including Leg the Spread: A Woman's Adventures Inside the Trillion-Dollar Boys Club of Commodities Trading. Lynn has written for numerous magazines and newspapers including O, Health, Good Housekeeping, and the Chicago Tribune. She lives in Los Angeles, CA.
or
Not Currently Available for Direct Purchase