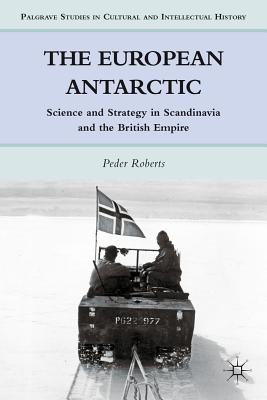 The European Antarctic (Hardcover)
Science and Strategy in Scandinavia and the British Empire (Palgrave Studies in Cultural and Intellectual History)
Palgrave MacMillan, 9780230115910, 266pp.
Publication Date: November 25, 2011
* Individual store prices may vary.
Description
This is the first transnational study of British, Norwegian, and Swedish engagement with the Antarctic, from the years before the Great War to the early years of the Cold War. Rather than charting how Europeans unveiled the Antarctic, it uses the history of Antarctic activity as a window into the political and cultural worlds of twentieth-century Britain and Scandinavia. Science was a resource for states attempting to reveal - and control - the Antarctic and its resources. But it was also a source of personal and institutional capital, a means of earning civic status and professional advancement. The book ranges from the politics of whaling management to the changing value of geographical exploration in the academy and the rise of specialized, state-sponsored research, presenting an episodic rather than a linear narrative focused on historically specific networks and strategies. Drawing upon scholarship in critical geopolitics, imperial environmental history, and the cultural history of science, author Peder Roberts argues that despite its splendid geographical isolation, the Antarctic was a field for distinctly local European dreams.
About the Author
PEDER ROBERTS Post-Doctoral Researcher at the Institut de Recherches Interdisciplinaires sur les Sciences et les Technologies, (Institute for Interdisciplinary Research on Science and Technology), University of Strasbourg, France.
Praise For The European Antarctic: Science and Strategy in Scandinavia and the British Empire (Palgrave Studies in Cultural and Intellectual History)…
'This elegantly written, well-researched, and thoughtful study is a major contribution to twentieth-century polar history. Drawing upon unpublished documents in Norwegian, Swedish, and English, Roberts weaves a fascinating and persuasive account of the changing relations between science and commerce as well as science and national honor in a path breaking contribution to the history of twentieth-century Antarctic exploration.'—Robert Marc Friedman, professor of History of Science, University of Oslo & Tromsø and associate research scholar, Johns Hopkins University


'In this erudite and tightly argued book, Peder Roberts confirms his status as one of the most exciting early career scholars working on the history of science, with a particular focus on the Polar Regions. The material presented here offers us a fascinating transnational analysis of how Britain, Norway, and Sweden explored, studied, and governed the Antarctic. More generally, it offers a plethora of theoretical and methodological insights into how to write about the histories and geographies of science and thus deserves to be read widely.'— Klaus Dodds, professor, Royal Holloway, University of London and author of Pink Ice: Britain and the South Atlantic Empire and A Very Short Introduction to the Antarctic