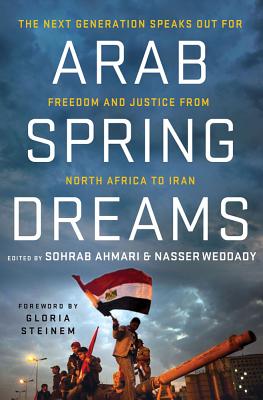 Arab Spring Dreams: The Next Generation Speaks Out for Freedom and Justice from North Africa to Iran (Paperback)
The Next Generation Speaks Out for Freedom and Justice from North Africa to Iran
Palgrave MacMillan, 9780230115927, 235pp.
Publication Date: May 8, 2012
Description
From a gay man secretly mourning his lover's suicide in Morocco to a young woman denied schooling because of religious discrimination in Iran, Arab Spring Dreams spotlights some of the Middle East's most outspoken young dissidents. The essayists cover a wide range of experiences, including premarital sex, the lack of educational opportunities, teenage marriage, and the fight for political freedom. They also highlight how repressive laws and cultural mores snuff out liberty and stifle growth and consider how previous movements - particularly the American civil rights struggle - might be channeled to effect change in their own countries. Beautifully written and profoundly moving, these stories present a decisive call for change at a crucial point in the evolution of the Middle East.
About the Author
Nasser Weddady is the Civil Rights Outreach Director of the American Islamic Congress. He helped design and administer the "Dream Deferred" essay contest, and has helped lead several high-profile campaigns to free imprisoned dissidents in North Africa, Egypt, Yemen, Saudi Arabia, Iran, and beyond. Sohrab Ahmari is an Iranian-American journalist. His columns, feature stories, and reviews have appeared in The Wall Street Journal, the Boston Globe, The New Republic, and The Chronicle of Higher Education, among others.
Praise For Arab Spring Dreams: The Next Generation Speaks Out for Freedom and Justice from North Africa to Iran…
"Some of these young writers possess more clarity than all the pundits combined."--Times Literary Supplement
"Arab Spring Dreams scratches well beneath the surface of the societies concerned and probes into their psychological and social fabric. And in doing so, it proves that contrary to the claims of so many Arab politicians, not everything that is wrong with the region is someone else's fault."--The Telegraph, London
"A slim volume that successfully presents 'treasures, surprises, and rewards.'" --Kirkus Reviews
"The genesis of this lean essay anthology actually preceded the protests in Tunis and Cairo by more than five years…Many of those visions now appear prescient…Arab Spring Dreams is a powerful boost for young people in the Middle East who seek to lift the curtain of obscurantism from a region desperate for daylight."—Israel Journal of Foreign Affairs
". . . Immediate and raw, the essays in this collection provide glimpses of daily life in countries where civil rights do not exist. Though the essay contest seemed like a quixotic gesture at its inception in 2005, it turns out to have been prescient." --Publishers Weekly
"You are now holding an exceptional book. It is particularly now when the eyes of the whole world are anxiously set on the Middle East that I am so eagerly looking forward to getting to know the stories which often do not make themselves heard among the brouhaha in the media. The essays collected here are a particularly important testimony and close to my heart as they are written by young courageous people who dare to dream of the things their parents never dreamt of. The book clearly demonstrates that no matter where we live or what religion we follow, certain fundamental values are universal."—Lech Walesa, Nobel Peace Prize recipient, and the former President of Poland
"This is a wonderful book, and a stirring testament to the truth that the desire for freedom and democracy transcends the boundaries of nationalities, religion, ethnicity, race and gender."--Azar Nafisi, author of
Reading Lolita in Tehran
"For too long, American readers have looked to unreliable intermediaries to learn what's on the minds of the Arab youth. But now two of the most promising young thinkers from the region have offered up a gem, Arab Spring Dreams, giving us access to their generation's most authentic voices. To further their worthy plight for freedom, let us begin by lending an ear to their moving narratives."--Roya Hakakian, author of Journey from the Land of No and Assassins of the Turquoise Palace 
"These are extraordinary and ordinary stories that underline an immutable truth: people want to live as free beings with dignity and equal rights. This collection of powerful testimonies is gripping, heart-breaking, and inspiring, offering the only antidote to the abyss of a society lacking rule of law: educated hope. These pages reveal that the struggle for civil rights in the Middle East is still ongoing--and will require allies the world over who recognize the universality of the struggle for human rights and the responsibility borne by those of us living in freedom." –Thor Halvorssen, President, Human Rights Foundation
"Arab Spring Dreams offers a compelling journey through the hearts, minds and souls of the generation that rocked the world's most repressive region. A first-hand account of the struggle for democracy in the Middle East, and a terrific roller coaster of burning frustrations and passionate aspirations. Buckle up!"--Ahmed Benchemsi, Stanford University Center on Democracy, Development and the Rule of Law
"Sohrab Ahmari and Nasser Weddady have assembled a chorus of new voices from across the Arab and Iranian Middle East, and all of the voices are young, and all of them are plaintive. Not everyone among the contributors to this anthology sees things the same way, but everyone is filled with yearning for a better future, and the yearning is touching. Will the better future come about? One thing is certain: a better future for the Middle East and for the larger world will come about only if people from different corners of the world do a better job of speaking to one another. Arab Spring Dreams contributes to that noble cause. And Ahmari and Weddady are writers to watch."--Paul Berman, author of Terror and Liberalism and The Flight of the Intellectuals
"This book is the essential portrait of a generation, an intimate explanation of the forces and frustrations that are shaping the Middle East. If you care about women's rights, religious freedom, or basic human dignity, then these are stories you need to hear."--Lara Setrakian, Foreign Correspondent, ABC News/Bloomberg
Advertisement