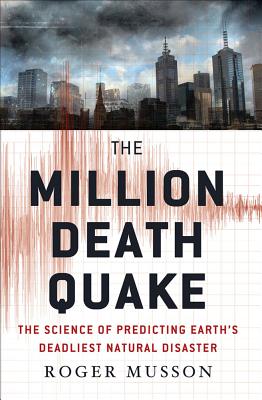 The Million Death Quake (Hardcover)
The Science of Predicting Earth's Deadliest Natural Disaster
St. Martin's Press, 9780230119413, 272pp.
Publication Date: October 16, 2012
* Individual store prices may vary.
or
Not Currently Available for Direct Purchase
Description
For centuries, Californians and the Japanese have known that they were at risk of catastrophic earthquakes, and prepared accordingly. But when a violent 7.0 earthquake rocked Haiti in 2010, hardly anyone knew the island nation was even at risk for disaster, and, tragically, no one was prepared. Over 300,000 people died as buildings that had never been designed to withstand such intense shaking toppled over and crushed their inhabitants. Now, scientists warn that it won't be long before a single, catastrophic quake kills one million people - and that it is going to strike right where we least expect it. In this groundbreaking book, renowned seismologist with the British Geological Survey Roger Musson takes us on an exhilarating journey to explore what scientists and engineers are doing to prepare us for the worst. With riveting tales of the scientists who first cracked the mystery of what causes the ground to violently shake, Musson makes plain the powerful geological forces driving earthquakes and tsunamis, and shows how amazing feats of engineering are making our cities earthquake-proof. Highlighting hotspots around the world from Mexico City to New York this is a compelling scientific adventure into nature at its fiercest.
About the Author
Roger Musson is the Head of Seismic Hazard and Archives at the British Geological Survey, where he is the chief spokesman to the media after any major earthquake, including The Guardian, The Sunday Post, and The Telegraph. He has written op-eds for The New York Times, is a regular contributor to Fortean Times, and was interviewed by Time magazine after the Haiti earthquake. He has appeared on a variety of documentaries, including the National Geographic Channel. Musson is also on the editorial board for the Journal of Seismology, the Bulletin of Earthquake Engineering, and Natural Hazards. He lives in Edinburgh, Scotland.
Praise For The Million Death Quake: The Science of Predicting Earth's Deadliest Natural Disaster…
"Compulsively readable."--Slate
"People with no background in Earth sciences can understand every word of it; its author is the head of seismic hazard for the British Geological Survey and writes with authority; and, above all, it could help save lives…earthquakes don't kill people – their offices, factories, tenements and houses do. There could hardly be a more serious take-home message."—The Guardian
"A lay-reader-friendly guide to seismology fundamentals, from early theories about earthquake origins to the workings of contemporary plate tectonics...Musson demonstrates why his expertise is much in demand in the wake of each new quake by keeping readers absorbed with clear explanations and colorful anecdotes about one of nature's most calamitous forces."--Booklist
"An authoritative and accessible investigation of one of nature's most destructive forces."—Kirkus Reviews
"Roger Musson has written a sobering assessment of the global hazards posed by earthquakes. He gives us an eloquent grounding in seismology based on science and history and confronts the questions of prediction and survival with balanced honesty. Buy a copy of this essential book and read it again and again."--Brian Fagan, author of Elixir: A History of Water and Humankind and The Little Ice Age
"Geophysicist Roger Musson provides an insider's view of seismology, from riveting accounts of historic earthquakes to the sobering modern reality that as global population grows, future earthquakes could cause unprecedented devastation.  But he also argues that lives can be saved -- if we have the political will -- through investment in earthquake engineering and real-time digital warning systems.  Essential reading for policymakers, planners, builders, investors, and all citizens of this tectonically vigorous planet."--Marcia Bjørnerud, author of Reading the Rocks
"A solid look at a shaky topic that shows why the whole world is earthquake country when it comes to disaster prevention."— David R. Montgomery, author of The Rocks Don't Lie: A Geologist Investigates Noah's Flood
"The Million Death Quake is an entertaining history of earthquakes, with both compelling stories of some of the deadliest disasters of all time and stories of how scientists very slowly came to understand what causes them.  The author provides very clear scientific explanations of earthquakes and of the reasons why we still cannot predict them.  Throughout the book Musson puts the entire subject in very human terms, emphasizing especially the important factor of population vulnerability.  Because we cannot predict earthquakes our only progress in reducing earthquake deaths has been through improved building construction.  But many densely populated cities lack such building improvements on a large enough scale, making possible the potential disaster that gives this book its title."--Bruce Parker, author of The Power of the Sea
"A crystal-clear primer on everything seismological...What makes earthquake disasters all the more harrowing is that in many cases the risks were known and heavy losses could have been avoided."--Clive Oppenheimer, author of Eruptions that Shook the World
Advertisement