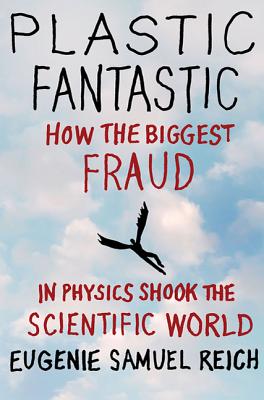 Plastic Fantastic (Hardcover)
How the Biggest Fraud in Physics Shook the Scientific World
Palgrave MacMillan, 9780230224674, 266pp.
Publication Date: May 12, 2009
Other Editions of This Title:
Paperback (4/27/2010)
* Individual store prices may vary.
Description
This is the story of wunderkind physicist Jan Hendrik Schon who faked the discovery of a new superconductor made from plastic. A star researcher at the world-renowned Bell Laboratories in New Jersey, he claimed to have stumbled across a powerful method for making carbon-based crystals into transistors, the switches found on computer chips. Had his experiments worked, they would have paved the way for huge advances in technology--computer chips that we could stick on a dress or eyewear, or even use to make electronic screens as thin and easy-to-fold as sheets of paper.
But as other researchers tried to recreate Schon's experiments, the scientific community learned that it had been duped. Why did so many top experts, including Nobel prize-winners, support Schon? What led the major scientific journals to publish his work, and promote it with press releases? And what drove Schon, by all accounts a mild-mannered, modest and obliging young man, to tell such outrageous lies?
About the Author
Eugenie Samuel Reich is a former editor at New Scientist. She has written for Nature, New Scientist, and The Boston Globe, and is known for her hard hitting reports on irregular science. Several of her reports have resulted in institutional investigations. She lives in Cambridge, Massachusetts.
Praise For Plastic Fantastic: How the Biggest Fraud in Physics Shook the Scientific World…
Financial Times Book of the Year: "A brilliant study of scientific fraud."
Plastic Fantastic
offers a compelling, timely and well-written
dissection of our era's most outrageous
scientific fraud, and of what it means for science today."--American Scientist Magazine
"Reich's account is meticulously researched, based on interviews with over 120 scientists, friends and editors. It is gripping stuff: a surprising page-turner that is well worth reading."—New Scientist
"…a wonderful piece of forensic writing."--Financial Times
"Reich pursues this affair in depth…does an excellent job of dealing with the facts of the Schön case"—Martin Blume, Nature
"Reich's readable account of a fairly recent ­science fraud, is valuable chiefly as a close look at the "kitchen" where scientific results are assembled and validated—and whence occasionally comes forth ­something that should not have seen the light of day."—John Derbyshire, The Wall Street Journal
"Eugenie Samuel Reich offers an inside look into how the scientific establishment deals with human imperfection. Plastic Fantastic is a transfixing cautionary tale of how easily wrongdoers can hide and thrive in modern science." —Jörg Blech, author of Inventing Disease and Pushing Pills
"In a warts 'n all expose of the scientific process, Eugenie Reich investigates the world's greatest scientific fraud. Fascinating, startling and highly readable. If you thought science was as pure as the driven snow, prepare to be shocked." —Justin Mullins, consultant editor, New Scientist
"A riveting tale of scientific detective work, and a story about an important issue in science that is often overlooked. A well researched page-turner." —Amir Aczel, author of Fermat's Last Theorem
or
Not Currently Available for Direct Purchase