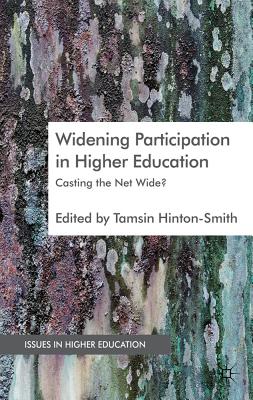 Widening Participation in Higher Education (Hardcover)
Casting the Net Wide? (Issues in Higher Education)
Palgrave MacMillan, 9780230300613, 330pp.
Publication Date: October 30, 2012
Other Editions of This Title:
Paperback (1/1/2012)
* Individual store prices may vary.
Description
Widening Participation in Higher Education: Casting the Net Wide? offers an authoritative up-to-date commentary on the challenges facing higher education today, through the perspectives of experts representing universities across the UK, Europe, Africa and the USA. Contributors draw on recent empirical research as well as analysis of historical developments and emerging policy to provide an understanding of these issues of widening participation to educational practitioners, policy makers and academics alike. Up-to-date insights chart the impact of global economic trends and recent policy developments for students, academics, providers and changing course provision. Contributions from emerging and established experts address a broad range of relevant issues, from the question of grade inflation through to the effectiveness of peer outreach programmes. The book provides insight into how the effects of trends including marketization and globalization will continue to impact pivotally on the extent to which higher education is able to act as a force for social equalization or exclusion of opportunities.
About the Author
CAROLINE BERGGREN Research Fellow at the Department of Education and Special Education, University of Gothenburg, Sweden CHRISTINA CLIFFORDSON Professor in Education at University West, Sweden MIRIAM DAVID Professor Emerita of Sociology of education at the Institute of Education, University of London, UK SARAH EARL-NOVELL Research Associate at UC Berkeley's Center for Studies in Higher Education (CSHE), USA JOHN FIELD Professor in the School of Education, University of Stirling, UK PHILIP FRAME Principal Lecturer in Organisational Development in the Human Resource Management Department of Middlesex University Business School, UK CATHERINE LIDO Programme Leader of the Psychology Subject Group at the University of West London, UK ANNE MACLACHLAN Senior Researcher at the Center for Studies in Higher Education at the University of California at Berkeley, USA LYNDA MEASOR Reader in Applied Social Sciences in the School of Applied Social Sciences at the University of Brighton, UK BARBARA MERRILL Reader in Lifelong Learning in the Centre for Lifelong Learning, University of Warwick, UK MARIE-PIERRE MOPREAU Senior Research Fellow at the University of Bedfordshire, UK JESSICA MORGAN Senior Lecturer in the Department of Psychology and Counselling at the University of Greenwich, UK NATALIE MORGAN-KLEIN Research Fellow in the School of Education, University of Stirling, UK LOUISE MORLEY Professor of Education and Director of the Centre for Higher Education and Equity Research (CHEER) at the University of Sussex, UK M. TERESA PADILLA-CARMONA Senior Lecturer in the Department of Research and Assessment Methods in Education, University of Seville, Spain MARY STUART Professor of Higher Education Studies at the University of Lincoln, UK YVETTE TAYLOR Professor in Social and Policy Studies and Head of the Weeks Centre, London South Bank University, UK PAULA WILCOX Lecturer in Criminology at the University of Brighton, UK RUTH WOODFIELD Reader in Sociology at the University of Sussex, UK ALAN WOODLEY was for many years a Senior Research Fellow in the Institute of Educational Technology at the Open University, UK MANTZ YORKE Visiting Professor in the Department of Educational Research, Lancaster University, UK