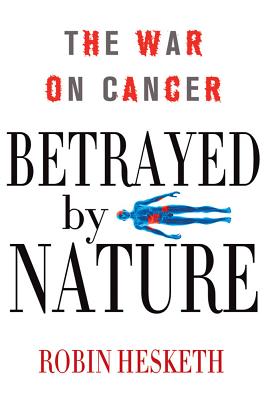 Betrayed by Nature (Hardcover)
The War on Cancer (MacSci)
St. Martin's Press, 9780230338487, 272pp.
Publication Date: May 8, 2012
* Individual store prices may vary.
Description
Seven million people die from cancer each year around the world, and many more are impacted by this universal scourge. In Betrayed by Nature, research scientist and lecturer Robin Hesketh demystifies the nature of cancer.
Hesketh provides a concise and comprehensive history of both the science and the medical advances made over the decades. He takes the reader on a riveting tour of human biology; he explains how cancers start, what is meant by 'a mutation', and how mutations can make cells grow abnormally and spread around our bodies.
Drawing on the latest discoveries from the Human Genome Project, Hesketh reveals the strides being made in understanding this malevolent disease and makes accessible the science of today's treatments. Betrayed by Nature looks forward to the day when many cancers can be treated readily and effectively. With cancer afflicting one in three people worldwide, this is an illuminating and optimistic look at the past, present, and future of cancer.
About the Author
ROBIN HESKETH, PhD, has been a member of the Department of Biochemistry at the University of Cambridge and a fellow of the Selwyn College for over 25 years. He is the author of Betrayed by Nature. He has also spoken widely in the press on cancer and has published in the leading clinical journals, including Nature. He lives in Cambridge, England.
Praise For Betrayed by Nature: The War on Cancer (MacSci)…
"[A] delight...because of the overall excellence of this work, it is a 'must read' for anyone who wishes to update his knowledge of this disease...Essential." —Choice
"Thoroughly informative and highly enjoyable to read." —The Biologist
"An informative, optimistic tour of the science of cancer . . . a solid account of how cancer works, how it has been combated and what the future holds for its treatment." —Kirkus Reviews
"Dr. Hesketh brings an expert's easy familiarity and depth to this comprehensive, at times almost affectionate, look at a deadly adversary. He tells us what cancer is, what causes it, what we can do to prevent it and how we are systematically battling the disease on many fronts. " —William Hanson, MD, author of The Edge of Medicine
"In Betrayed by Nature, Robin Hesketh melds medicine, science and history to create a clear and highly readable explanation of the complexities of cancer." —John P. Moore, Professor of Microbiology and Immunology, Weill Cornell Medical College