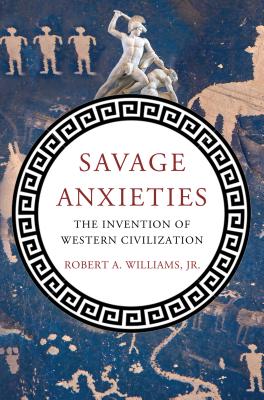 Savage Anxieties
The Invention of Western Civilization
Hardcover

* Individual store prices may vary.
Description
From one of the world's leading experts on Native American law and indigenous peoples' human rights comes an original and striking intellectual history of the tribe and Western civilization that sheds new light on how we understand ourselves and our contemporary society. Throughout the centuries, conquest, war, and unspeakable acts of violence and dispossession have all been justified by citing civilization's opposition to these differences represented by the tribe. Robert Williams, award winning author, legal scholar, and member of the Lumbee Indian Tribe, proposes a wide-ranging reexamination of the history of the Western world, told from the perspective of civilization's war on tribalism as a way of life. Williams shows us how what we thought we knew about the rise of Western civilization over the tribe is in dire need of reappraisal.
Praise For Savage Anxieties: The Invention of Western Civilization…
"Armed with guns, horses, and machines, European settlers relentlessly mowed down, pushed aside, and in some cases enslaved peaceful natives they found living in the new worlds they were overrunning. Reaching back to antiquity, they resurrected myths about one-eyed giants and other monsters to rationalize the harsh treatment they were visiting on Indians and Mexicans. Later, they would deploy very similar rhetorical strategies to justify extermination and enslavement in other parts of the world. The suspicion grows that Western agents are the savages and the peace-loving natives the superior race. Savage Anxieties explains how, like bad money driving out good, a savage society will win every time." —Richard Delgado, professor, Seattle University School of Law and author of Critical Race Theory
St. Martin's Press, 9780230338760, 272pp.
Publication Date: August 21, 2012
About the Author
Robert A. Williams, Jr. is a member of the Lumbee Indian Tribe as well as the professor of law and director of the Indigenous Peoples Law and Policy Program at the University of Arizona. He is the author of the classic work on Indian rights under US law, The American Indian in Western Legal Thought, which won the Gustavus Meyer human rights award recently. The recipient of awards from the MacArthur, Ford, and Soros foundations, Williams is also well known for his work defending tribal groups before the United Nations and the Supreme Court.