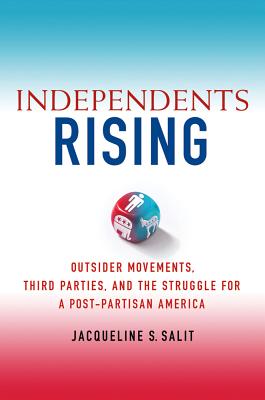 Independents Rising (Hardcover)
Outsider Movements, Third Parties, and the Struggle for a Post-Partisan America
St. Martin's Press, 9780230339125, 256pp.
Publication Date: August 7, 2012
* Individual store prices may vary.
Description
A revealing look at how independent voters have been upending the political establishment for thirty years and how they'll decide the future of American politics.

In a political system where two parties reign supreme, 40% of Americans consider themselves neither Democrats nor Republicans, but independents. Independents elected President Barack Obama in 2008 and then, in a seeming reversal, gave control of Congress to the Republicans in 2010. But who are these independents? Angry moderates? Frustrated ideologues? The base for the third party? Reformers or revolutionaries? Jacqueline Salit has spent 30 years as an insider in this growing movement of outsiders. She recounts the little-known history of this volatile force as old political institutions and categories are becoming irrelevant even repugnant to many Americans. An architect of unorthodox left/right coalitions within the Perot movement and Reform Party, and manager of Michael Bloomberg's three New York mayoral campaigns on the Independence Party line, Salit explores how these unclaimed voters are not only deciding elections, but reshaping the political landscape. With a surprising cast of characters from the famous to the unknown Salit argues that the failure to heed this movement against partisanship (and even parties) puts political careers at risk and damages essential features of American democracy. She reveals how independents underestimate their own power and how they can make the most of their newfound moment in the sun.
About the Author
Jacqueline S. Salit is the president of IndependentVoting.org, the country's leading strategy and organizing center for independents, with chapters in 40 states, and the publisher of The Neo-Independent magazine. Her political commentary has appeared in countless publications and she has been featured on CNN, MSNBC, CNBC, CBC, PBS, FOX and CSPAN. Salit is also a regular contributor to the nationally syndicated radio program The Fairness Doctrine and produced Talk/Talk with the late public philosopher Fred Newman. She lives in New York City.
or
Not Currently Available for Direct Purchase