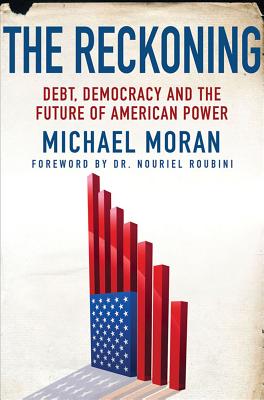 The Reckoning: Debt, Democracy, and the Future of American Power (Hardcover)
Debt, Democracy, and the Future of American Power
Palgrave MacMillan Trade, 9780230339934, 256pp.
Publication Date: April 10, 2012
* Individual store prices may vary.
or
Not Currently Available for Direct Purchase
Description
A leading forecaster of economic and political trends takes a sharp look at the decline of American influence in the world, and how it can prepare for the new reality.
The age of American global dominance is ending. Today, a host of forces are converging to challenge its cherished notion of exceptionalism, and risky economic and foreign policies have steadily eroded the power structure in place since the Cold War. Staggering under a huge burden of debt, the country must make some tough choices or cede sovereignty to its creditors. In "The Reckoning," Michael Moran, geostrategy analyst explores the challenges ahead -- and what, if anything, can be prevent chaos as America loses its perch at the top of the mountain.
Covering developments like unprecedented information technologies, the growing prosperity of China, India, Brazil, and Turkey, and the diminished importance of Wall Street in the face of global markets, Moran warns that the coming shift will have serious consequences not just for the United States, but for the wider world. Countries that have traditionally depended on the United States for protection and global stability will have to fend for themselves. Moran describes how, with a bit of wise leadership, America can transition to this new world order gracefully by managing entitlements, reigniting sustainable growth, reforming immigration policy, launching new regional dialogues that bring friend and rival together in cooperative multinational structures, and breaking the poisonous deadlock in Washington. If not, he warns, history won't wait.
About the Author
Michael Moran is an author and analyst of international affairs, a digital documentarian and Managing Director, Global Risk Analysis at Control Risks, a global political risk and security consultancy. A foreign policy journalist and geostrategist for investment banks and financial consultancies, he is author of "The Reckoning: Debt, Democracy and the Future of American Power" and co-author of the 2012 book "The Fastest Billion: The Story Behind Africa's Economic Revolution." Moran served as Editor-in-Chief at the investment bank Renaissance Capital and has been a collaborator of renowned economist Nouriel Roubini as well commentator for Slate, the BBC and NBC News. He is also an adjunct professor of journalism at Bard College and was the founding editor of the Emmy award-winning "Crisis Guides"documentary series for the Council on Foreign Relations.Moran's career has included periods at major media outlets: Senior correspondent, MSNBC.com (2003-05); senior producer, International News and Special Reports, MSNBC.com (1996-2003); U.S. affairs analyst, BBC World Service (1993-96); senior editor, Radio Free Europe (1990-93), former reporter for Associated Press, "St. Petersburg Times, Sarasota Herald-Tribune"(1985-88).Moran also served as Hearst New Media Fellow at Columbia University Graduate School of Journalism and was a longtime board member of the Overseas Press Club, as well as a judge of its annual awards. His work has appeared in the "New York Times, The Washington Post, Newsweek, The Economist, The Spectator" (UK), "The Guardian, The New Leader, " and has spoken on National Public Radio and in many other outlets. He has lectured at dozens of universities and think tanks around the world.From 2005 to June 2009, he served as executive editor of CFR.org, the website of the Council on Foreign Relations. Moran is also a foreign affairs columnist for Globalpost.com, and a member of the communications advisory board of Human Rights Watch. From 2009 to May 2011, he served as vice president, executive editor and senior geostrategy analyst at Roubini Global Economics, the macro/strategy consultancy founded by economist Nouriel Roubini.
Praise For The Reckoning: Debt, Democracy, and the Future of American Power…
"An engaging, if chilling read… Moran's point of view is valuable, particularly in the context of the U.S.' November elections."—USA Today
"The Reckoning is a smart, sober and clear-eyed primer on the Post-American Century. Read it, and then demand equally straight answers from those who seek your vote."--The Seattle Times
"A grim but hopeful analysis of the global position of the U.S. and the dire need for change."--Booklist
"For policy and financial wonks, a smart, bracing and sobering read; for voters, fair warning about possible outcomes of the looming November elections."--Kirkus Reviews
"This solemn examination of the severe problems facing the U.S. today...offers a practical, useful roadmap for change if politicians will follow."—Publishers Weekly
"The Reckoning is a chilling survey of the state of the world and American global leadership. Michael Moran sees the real problems and argues that things will go from bad to worse unless Washington can somehow manage to change its ways and embrace major reforms. I hope he's wrong--but I fear he may be right."--Gideon Rose, Editor, Foreign Affairs and author of How Wars End
"Mike Moran is a sharp thinker and a fine storyteller, and The Reckoning is a terrifically engaging read. America's role in the world is a subject that demands clarity and nuance, and this book delivers both."--Ian Bremmer, author of The End of the Free Market
"With the clarity and style of someone used to communicating complicated stuff to a general audience, Moran draws on his decades of experience to lay out for readers all the factors in the bill that has come due for America and how we can pay it off.  The choices are hard but Moran is not a "declinist;" he is a realistic optimist. The Reckoning is a book that frames the choices facing America's citizens better than any I have read."--Michael Goldarb, Senior Correspondent, GlobalPost.com and author of Emancipation: How Liberating Europe's Jews From the Ghetto Led to Revolution and Renaissance
"Moran comprehensively and bluntly catalogs the political, economic, and foreign policy errors that have drained the Treasury and diminished global opinion of American leadership.  His views will irritate many current stakeholders.  They do however contribute to a needed debate on American's future role in global security and Moran believes that role, while, requiring changes in style and substance, remains vital."--Dr. William Turcotte, Chairman Emeritus, Naval War College
Advertisement