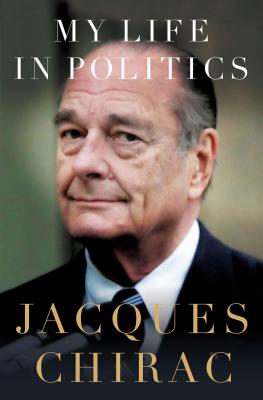 My Life in Politics (Hardcover)
St. Martin's Press, 9780230340886, 352pp.
Publication Date: November 13, 2012
* Individual store prices may vary.
or
Not Currently Available for Direct Purchase
Description
Along with Mikhail Gorbachev, Helmut Kohl, and Francois Mitterand, Jacques Chirac is one of the most iconic statesmen of the twentieth century. Two-time president of France, mayor of Paris, and international politician, a recent poll voted him the most admired political figure in France, with current president Nicolas Sarkozy ranking in 32nd place. This memoir covers the full scope of Chirac's political career of more than 50 years and includes the last century's most significant events. A protege of General de Gaulle, Chirac started political life after France's defeat in Algeria in the early 1960s. He then became Prime Minister George de Pompidou's "bulldozer" and a personal negotiator with Saddam Hussein for France's oil interests in the Persian Gulf. He sold Iraq its first nuclear reactor and incurred the wrath of the United States and Israel, which he discusses in striking detail. As mayor of Paris, Chirac was famed for his success in beautifying the City of Lights and keeping it whole during the heady days of the 1968 riots. As president in the 1990s and early 2000s, Chirac took controversial steps to privatize the economy and plan the European Union. Chirac seldom pulls punches and in several dramatic chapters describes his opposition to the US invasion of Iraq in 2002 and his personal meetings with George W. Bush. These landmark events are brought into sharp focus in this memoir that the popular French magazine "Paris Match" said "steals the show" even after its author decamped the presidential palace.
About the Author
Jacques Chirac is a lifelong French politician and one of the most charismatic figures of twentieth century politics. He was president of France from 1995 to 2007. He also served as prime minister of France twice in the 1970s and 1980s, and as Mayor of Paris from 1977 to 1995. He is best known for being one of the most prominent international opponents of the Bush administration's intention to go to war in Iraq. He also worked to abate nuclear armament, banning the further continuation of nuclear tests in France.
Praise For My Life in Politics…
"Jacques Chirac is so alive in these memoirs - whether it's recounting meetings with the great figures of his time or sitting around a dinner table in conversation or fighting it out in the epic political battles of his career. This is a self portrait of a humanist concerned above all with justice, fighting extremism from any political quarter. In page after page, he offers a lucid view on life's big issues." - Les Echos

Advertisement