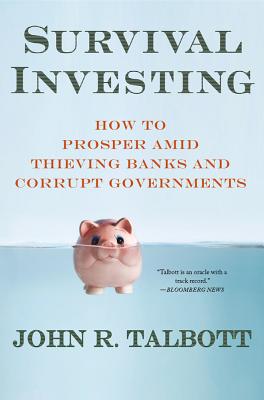 Survival Investing (Hardcover)
How to Prosper Amid Thieving Banks and Corrupt Governments
Palgrave MacMillan Trade, 9780230341227, 256pp.
Publication Date: June 19, 2012
* Individual store prices may vary.
Description
Most individuals and institutions hold the preponderance of their investments in common stocks, corporate bonds, mutual funds, index funds, muni bonds, money markets, bank CDs, and Treasury securities. But these conventional investments will not do well in a world dominated by corrupt, debt-laden governments and thieving bankers, brokers and middlemen. Finance guru John R. Talbott, prescient predictor of the financial crisis and the housing market crash, offers a new paradigm for the coming economic reality. He shows how the recent housing collapse and global economic crisis left governments of the world with enormous annual operating deficits at a time when the banking system continues to struggle with bad debts and requires additional government guarantees and bailouts. Add the fact that growth is constrained because the first wave of the baby boom is hitting 65 and consumers are still loaded with unsustainable levels of debt, and you have a recipe for an economic catastrophe. In this uncertain atmosphere, Talbott offers clear strategies on what you can do to protect your investments and your family.
Among the global dynamics covered are:
*the low-wage threat of China and India
*the legitimacy of gold investing
*the false security of diversification
*the risks of sovereign debt
. . . and why most economists are missing the boat.
About the Author
John R. Talbott is a former investment banker, economics guru, and bestselling author with global book sales approaching 200,000. He has established himself as a predictor of major economic events over the last two decades, including the dot.com technology stock collapse, the overheated national housing market, and the global mortgage crisis. Talbott has had articles published in "The" "Wall Street Journal," the "Financial Times," "The" "Boston Globe," the "San Francisco Chronicle," the "International" "Herald Tribune," "The" "New Republic," the "Los Angeles Times," and Salon.com and is a regular contributor to "The Huffington Post." He has appeared as a financial expert on television for CNN, CBS, Fox News, CNBC, Fox Business News, CSPAN, and MSNBC as well as on hundreds of radio programs. Talbott was previously a visiting scholar at UCLA's Anderson School of Management as well as a top Goldman Sachs investment banker.
Praise For Survival Investing: How to Prosper Amid Thieving Banks and Corrupt Governments…
"A nonconformist approach to finance and investing that should appeal to politically minded contrarians."--Kirkus Reviews
"This slim but shrewd discussion of money and politics—and the deleterious effect the latter has on the former—is a provocative study of the dangers of impending runaway inflation."--Publishers Weekly
"Finance is based on trust. But what do you do if you cannot trust financiers? Talbott, who has long been an acute observer of what's wrong with our financial system, proposes provocative answers." --Daron Acemoglu, Professor of Economics, MIT and co-author of Why Nations Fail
"You need not embrace John's political bombast, but you ignore his financial prescriptions at your peril.  For over a decade, he has made consistently prescient observations about future developments that were ignored by the vast majority of establishment analysts and pundits...until they happened.  John is a brilliant unconventional thinker.  His concept, introduced in this book, of measuring investment returns in terms of ounces of gold instead of units of  paper currency could revolutionize investment practice much as Einstein's general relativity revolutionized cosmology."--Peter Fahey, Retired Partner, Goldman, Sachs & Co.
 "In this highly readable, brutally honest, and genuine book, Talbott identifies the key problem our society and economic system face - corporations, especially banks, have way too much political power and cannot be trusted with investors' money as governments, regulators, and even academics betray their responsibilities to the public. Talbott calls it like he sees it." --Anat Admati, Professor of Finance and Economics, Stanford Graduate School of Business
"John Talbott, a Wall Street insider, blows a deafening whistle in this no-holds-bar description of financial corruption and government malfeasance.  His grave warnings about Wall Street and Pennsylvania Avenue come with strong advice about how to protect ourselves from the next terrible economic storm -- Uncle Sam's going broke.  Survival Investing will put your hair on end, but also let you sleep at night.   It's a must read."--Laurence Kotlikoff, Professor of Economics, Boston University and co-author of The Clash of Generations 
or
Not Currently Available for Direct Purchase