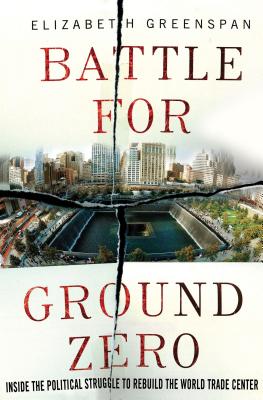 Battle for Ground Zero: Inside the Political Struggle to Rebuild the World Trade Center (Hardcover)
Inside the Political Struggle to Rebuild the World Trade Center
Palgrave MacMillan, 9780230341388, 257pp.
Publication Date: August 20, 2013
* Individual store prices may vary.
or
Not Currently Available for Direct Purchase
Description
In the aftermath of 9/11, Americans came together in a way not seen for a generation, pledging unity to rebuild after the horrific loss of the Twin Towers. People were signing up to go to war; rescue workers were laboring to clear rubble. But instead of becoming a rallying symbol in the fight against terrorism, Ground Zero has been plagued by intense conflict and controversy from the very start. "Battle for Ground Zero" goes behind the scenes of this fight to rebuild, revealing how grieving families, commercial interests, and politicking bureaucrats clashed at every step of the way, confounding progress and infuriating the public. Since the fall of 2001, author Elizabeth Greenspan has been documenting the drama--conducting interviews with neighborhood residents, architects, officials, rescue workers, and victims' relatives, as well as key New York players like uber-developer Larry Silverstein, and Governor Pataki. Here she provides a warts-and-all look at this pivotal decade--from the bitter feuding between city officials and victims' families, to the endless controversy over the memorial design, to the fraught tenth anniversary, against a still-unfinished building. Publishing just as the memorial is finally completed, "Battle for Ground Zero" is an exhaustively researched reminder of how long it took to put a brave face on the horror of 9/11.
About the Author
Elizabeth Greenspan is a writer and urban anthropologist currently teaching at Harvard University. She writes regularly about Ground Zero for "The Atlantic" online. Her writing has also appeared in "The Washington Post" and "The Harvard Review," among other publications, and she has worked for the Associated Press Rome Bureau, and "National Journal" magazine. She has lectured about Ground Zero and 9/11 at numerous colleges and universities, including Harvard, Brandeis College, the University of Pennsylvania, Haverford College, Temple University, and SUNY-Albany. She lives in Cambridge, MA.
Praise For Battle for Ground Zero: Inside the Political Struggle to Rebuild the World Trade Center…
"Elizabeth Greenspan, an urban anthropologist, vividly recounts the dysfunctional process and controversies that put her favorite graffiti, "America the Re-build-iful," to a grueling test that is only now about to be graded by the public… a valuable and highly accessible primer for everyone who wants to better understand how government works and why it does not." — The New York Times
"Riveting... an engrossing and evolving portrait of unrealized expectations and political gamesmanship…Greenspan's exactingly researched and artistically rendered reportage thoughtfully details its twisting journey upward." —Publishers Weekly
"A must-read study of the power of democracy and shared memory to shape our public spaces." —Kirkus (Starred Review)
Advertisement