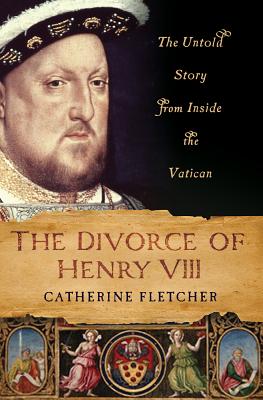 The Divorce of Henry VIII: The Untold Story from Inside the Vatican (Hardcover)
The Untold Story from Inside the Vatican
St. Martin's Press, 9780230341517, 288pp.
Publication Date: June 19, 2012
* Individual store prices may vary.
or
Not Currently Available for Direct Purchase
Description
In 1533 the English monarch Henry VIII decided to divorce his wife of twenty years Catherine of Aragon in pursuit of a male heir to ensure the Tudor line. He was also head over heels in love with his wife's lady in waiting Anne Boleyn, the future mother of Elizabeth I. But getting his freedom involved a terrific web of intrigue through the enshrined halls of the Vatican that resulted in a religious schism and the formation of the Church of England. Henry's man in Rome was a wily Italian diplomat named Gregorio Casali who drew no limits on skullduggery including kidnapping, bribery and theft to make his king a free man. In this absorbing narrative, winner of the Rome Fellowship prize and University of Durham historian Catherine Fletcher draws on hundreds of previously-unknown Italian archive documents to tell the colorful tale from the inside story inside the Vatican.
About the Author
Catherine Fletcher holds a PhD in history from the University of London. She is the recipient of many awards and fellowships at the British School at Rome and the European University Institute in Florence. She teaches history at the University of Durham. The Divorce of Henry VIII is her first book.
Praise For The Divorce of Henry VIII: The Untold Story from Inside the Vatican…
"Engagingly written…recommended."­--Choice
"An impressive, dogged study for armchair Tudor detectives."--Kirkus Reviews
"An eye-opening book, an intricate and fascinating story of an elusive man with an impossible job. A brilliant and impressive feat of original research, and necessary reading for anyone fascinated by the story of Henry's divorce... Catherine Fletcher has allowed the story to tell itself, except that she's been so clever in the telling of it, cutting through to what matters without over-simplifying." –Hilary Mantel, author of Wolf Hall
"This book casts bright light on an extraordinary cast of characters at a dark moment in the affairs of Christendom. With considerable scholarship, borne lightly, Catherine Fletcher vividly evokes the worlds of Papal Rome and of Henry VIII's Court in England, and deciphers the diplomacy of nightmare."--Susan Brigden, author of New Worlds, Lost Worlds: The Rule of the Tudors
"It is no small achievement to find previously unexplored documents and to offer a new take on one of the most famous divorces in history. Yet Fletcher does just that with great scholarly verve and literary aplomb. This is a compelling tale of high politics and dodgy dealings, renaissance diplomacy and family drama. This is the untold story of Gregorio 'The Cavalier' Casali Henry VIII's man in Rome."—Anna Whitelock, author of Mary Tudor
"Catherine Fletcher rescues from undeserved obscurity a key player in one of history's great events. Gregorio Casali turns out to be a thoroughly intriguing character: a skilled diplomat, but also a controversial networker, bribester, and all-around fixer who went by the code name Bald Head. With impeccable scholarship and a zest for the delightful minutiae of history, Fletcher navigates the intricate byways of Renaissance diplomacy to bring this vital new figure into the story of Henry VIII's 'great matter.'"—Ross King, author of Brunelleschi's Dome and The Judgment of Paris
"This entertaining and meticulously researched study casts new light on a famous episode in English history."--Linda Porter, author of Katherine the Queen 
"A marvel of close-up detective work, with the main players, in addition to those on the English side, being the Emperor Charles V (Catherine's nephew), the King of France and Pope Clement VII. … And we are in the thick of it from the word go, with lots of nasty backbiting."—Duncan Fallowell, Daily Express
"Catherine Fletcher is not afraid to dazzle the reader with her scholarly prowess and detail, with the result that she has managed here to reclaim a period of history all too often simplified… Fletcher simply tells a cracking story well  in plenty of detail with clarity and insight… Her protagonists are never anything but true to their selves and Fletcher richly deserves the title of historian."—Sarah Vine, London Times
"The greatest joy of this splendid book is that it dwells on context. You'll learn a great deal about why the squabbles between Charles V and the king of France made Italian and papal politics such a muddle. You'll emerge with a keener sense of why the dynastic priorities of Henry VIII ("a mid-ranking northern monarch, a player on the European stage but far from the star of the show") managed to cause such a fuss. With any luck you'll switch off your TV and rely instead on the hard work of experts who can write very well."--Jonathan Wright, The Herald
"Fletcher's glittering debut.... drawing on the unexplored riches of Italian Renaissance archives, enlarges the [well known story], and to magnificent effect."– Miranda Seymour, Sunday Times London
"Catherine Fletcher's [The Divorce of Henry VIII] is beautifully written and offers a clear and accessible account of a neglected figure in Tudor and Papal politics. Her study of Gregorio Casali's career reveals unexpected links between the worlds of the court, business and the law in London and Rome and offers a fascinating account of how patronage and diplomacy worked in sixteenth-century Europe. It is thoroughly researched and carefully nuanced, providing not merely a gripping tale of Henry VIII's campaign for an annulment of his first marriage, but scholarly insights into the nature of personal politics in the Renaissance. It will find its way into the collection not only of the enthusiast of the period, but the student and the professional historian alike."--Glenn Richardson, Reader in Early-Modern History, Saint Mary's University College London
Advertisement