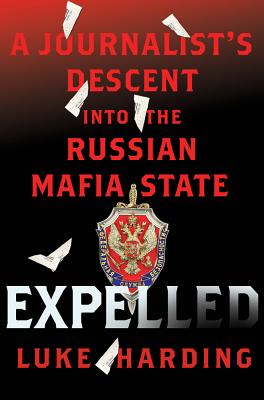 Expelled (Hardcover)
A Journalist's Descent Into the Russian Mafia State
Palgrave MacMillan, 9780230341746, 304pp.
Publication Date: May 22, 2012
* Individual store prices may vary.
Description
In 2007 Luke Harding arrived in Moscow to take up a new job as a correspondent for the British newspaper, The Guardian. Within months, mysterious agents from Russia's Federal Security Service --the successor to the KGB--had broken into his apartment. He found himself tailed by men in leather jackets, bugged, and even summoned to the KGB's notorious prison, Lefortovo. The break-in was the beginning of an extraordinary psychological war against the journalist and his family. Windows left open in his children's bedroom, secret police agents tailing Harding on the street, and customs agents harassing the family as they left and entered the country became the norm. The campaign of persecution burst into the open in 2011 when the Kremlin expelled Harding from Moscow--the first western reporter to be deported from Russia since the days of the Cold War. Expelled is a brilliant and haunting account of the insidious methods used by a resurgent Kremlin against its so-called "enemies"--human rights workers, western diplomats, journalists and opposition activists. It includes illuminating diplomatic cables which describe Russia as a "virtual mafia state". Harding gives a personal and compelling portrait of Russia that--in its bid to remain a superpower--is descending into a corrupt police state.
About the Author
Luke Harding is an award-winning foreign correspondent with "The Guardian." He has reported from Delhi, Berlin and Moscow and has covered wars in Afghanistan, Iraq, and Libya. He is currently based at "The Guardian"'s office in London.
Praise For Expelled: A Journalist's Descent Into the Russian Mafia State…
"Some of Mr. Harding's best reporting in the book consists of his account of the 2008 Russia-Georgia war . . . [His] chapter on WikiLeaks is essential. His description of the effect of the FSB's psychological torment on his children is heartbreaking. His reporting on neo-Nazi-inspired nationalists is worrisome, and his coverage of human rights activists and lawyers risking their lives to set Russia right is uplifting . . . [EXPELLED is] a good primer on what [Russians] hope to leave behind."--The Washington Times
"A keen, sensitive chronicle of the growing chasm between Russia's haves and have-nots. An astute testimony of a regime grown intractably dastardly." --Kirkus Reviews
"What is different [here] is the personal and family history at its core. Instead of attempting a conventional sketch of Kremlin politics, Harding focuses on the harassment he encountered in Russia - and the result is a gripping tale…. [and an] enthralling denunciation..."--Robert Service, author of Trotsky
"A courageous and explosive exposé of the "corrupt nexus at the heart of the Russian state."--Orlando Figes, author of Natasha's Dance
"The importance of Luke Harding's book lies in its first-hand account of a relatively mild but telling bout of statement sponsored harassment, of a kind that, like much else in Russia, is intentionally opaque and deniable...The WikiLeaks files endorse the summary of the fictional Moscow correspondent in my novel, Snowdrops, who says that, in Russia, there are no politics or business stories: "There are only crime stories.""--AD Miller, author of the Booker-shortlisted novel Snowdrops, The Guardian
"Russia laid bare in an absorbing account of four years spent as head of the Guardian's Moscow bureau... There is now a vast literature describing the hard reality of Putin's Russia, but what Harding adds to our awareness is a sense of what it is like to live that reality every day. He does this by relating tragedies and absurdities through a series of vivid and often moving encounters.... The author's descriptive powers and his insights into the mentality and techniques of Putinism are enough to make Mafia State an essential read."--David Clark, New Statesman
"Harding's reportorial talents capture colour and character to illustrate demographic decay, the war in Georgia and the noxious world of the thuggish pro-Putin youth movements...Putin's personal wealth (another good story) is taboo in Russia's mainstream media, but much discussed elsewhere. More sizzling were his pieces (now chapters) drawn from WikiLeaks. It is nice to know that American diplomats are such diligent and caustic observers of Russia's slide into what Harding rightly calls a "mafia state". It is a pity that their political masters in Washington, DC ignore what they are told. With Putin set to be in charge for 12 more years, it is high time that the outside world woke up to the true nature of the system he has created: astonishingly corrupt and incompetent, and also (as the Hardings discovered) thuggishly xenophobic."--Edward Lucas, The Observer
"As one of the authors of the Guardian's book on the WikiLeaks trove, Harding was nicely positioned to cull material about 'the corrupt nexus at the heart of the Russian state'...Peeking into the FSB's cabinet of cloaks and daggers, Harding discovers hapless spooks who seem to have strayed off the set of a Cold War play that, unknown to them, was mothballed two decades ago."--Stephen Holmes, London Review of Books
"Uncertainty, fear and understandable paranoia permeate this book. But this does not cloud the analysis. Harding's description of the rise of Russia's racist right, which he delights in murdering ever greater numbers of foreign looking innocents (usually from the Caucasus), is deeply troubling. He suggests it is the one political force which threatens Putin's mafia state.... Harding's book makes it clear that Russia has sunk once again into a deep political and social malaise that is going to make the immense challenges facing all of us despite the current crisis tougher, not easier."--Misha Glenny, Irish Times
"Mafia State deals with many aspects of Russian life, from the Russian-Georgian war to the rise of the far Right, from Putin's wealth to rural poverty. His reports are clear, precise and up-to-the minute..What is especially striking...is that the Guardian's reporter gets treatment usually reserved for those whom the FSB considers enemies of the state."--Masha Karp, The Spectator
"Every diplomat, business person and journalist who works or wishes to work in Russia should read this book. Play by the unwritten rules and you will have only minor difficulties, but break the rules and formidable psychological pressure will be applied."--Martin McCauley, East-West Review
"Mafia State is full of all possible clichés concerning Russian life: 'arbitrariness, hypocrisy, lying, rapacity, treachery and vacuity' to use the formula of the 19th-century Russian satirist Mikhail Saltykov-Shedrin that Luke Harding quotes in his book. However, the sex manual left by a KGB agent in Luke Harding's bedroom in order to 'demoralise him' gives the author a right to say (and a reader a reason to believe) that these clichés are still true."--The Oxonian Review
"Both intriguing and highly pertinent to understanding current issues...Harding is relentless in his pursuit of the truth and delineates sharply the social conditions and attitudes in Russia.... In the Mafia State, Harding's style is informed but informal and yet brings into focus contemporary Russia."--bookbag.co.uk
or
Not Currently Available for Direct Purchase