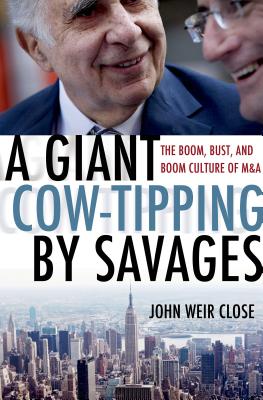 A Giant Cow-Tipping by Savages: The Boom, Bust, and Boom Culture of M&A (Hardcover)
The Boom, Bust, and Boom Culture of M&A
Palgrave MacMillan, 9780230341814, 311pp.
Publication Date: October 15, 2013
* Individual store prices may vary.
or
Not Currently Available for Direct Purchase
Description
Modern mergers and acquisitions, or M&A as it's more commonly known, is a new phenomenon. The buying and selling, the breaking up and combining of companies-the essence of M&A-has been a part of commerce throughout history, but only in our era has M&A itself become a business. In 2007, before the recession hit, it was a $4.4 trillion global enterprise. And yet, it remains largely unexplored. Discrete stories have been pulled from the annals of M&A, both true and fictionalized, that have become touchstones for wealth and excess. Who can forget Gordon Gekko and his "Greed is Good" speech? But while there have been a few iconic characters and tales to emerge, no one has told the rich history of M&A, until now. This is a look into that world and the people who created it. This reads like Dallas meets Wall Street, told through an intriguing narrative that not only brings to light in gritty detail all of the back room drama of such powerful players as Carl Icahn and Ronald Perelman, Marty Lipton and Joe Flom, Jimmy Goldsmith and Sumner Redstone, but also reveals how the new generation, including activist whirlwind Bill Ackman and iconoclastic new Delaware judge Leo Strine, will dominate the next tsunamic, and imminent, M&A boom.
About the Author
John Weir Close is an award-winning journalist who has been covering mergers and acquisitions for decades. He is the editor and founder of The M&A Journal where he's covered most of the major transactions and has profiled many of the big players. He is also a former editor at The American Lawyer where he worked for ten years; there he was in charge of two monthly magazines, one on M&A and one aimed at in-house law departments. Close started his career in Saudi Arabia as a stringer for the Financial Times and The Wall Street Journal and an editor at Jeddah's The Arab News. He then became a corporate lawyer and worked in M&A on Wall Street for four years. He's been published in the Financial Times, The Wall Street Journal, The Asian Wall Street Journal, the International Herald Tribune, The Observer, The American Lawyer, Corporate Control Alert, and Corporate Counsel.
Praise For A Giant Cow-Tipping by Savages: The Boom, Bust, and Boom Culture of M&A…
"A Giant Cow-Tipping by Savages…is as much an inquiry into the roots of today's business environment as it is a sharp-penned history of raiders and their minions." —Strategy + Business
"Close details prevailing practices, drawing on a wealth of information, flavored with gossip about wild parties, cocaine use and sexual extravaganzas during the working days of 'nocturnal underground Wall Street.'" —
Kirkus
"Not since
Barbarians at the Gate
and
The Predators' Ball
have I enjoyed a book about Wall Street as much as
A Giant Cow-Tipping by Savages: The Boom, Bust, and Boom Culture of M&A
, by John Weir Close."—
David Warsh, economicprincipals.com
"
A Giant Cow-Tipping By Savages
is uncommonly lively and literate in its sweeping depiction of one of the great upheavals in modern business history." —
Benjamin Wallace, author of The Billionaire's Vinegar
"
A Giant Cow-Tipping by Savages
is
Mad Men
mixed with
House of Cards
, a bird's eye view into a world rarely seen, exposing the lives of men who changed corporate America, a drama filled with late-night deal making, fortune-hunting and pathos." —
Darci Picoult, Sundance fellow, screenwriter of award-winning Mother of George
"The excellence of this book begins with its title. It is a worldly and exhilarating account of America's corporate wars from the boisterous 1980s to the present." —
James Buchan, author of The Authentic Adam Smith
"John Close vividly captures the tumult we experienced and the exhilaration we felt manning the battle stations in the takeover frenzy of the '80s—the most fascinating M&A decade in our history." —
James Freund, Retired Partner, Skadden, Arps, Slate, Meagher & Flom, LLP
"Reading this compelling, colorful, and extraordinarily well-written romp through the M&A wars will bring back a flood of memories to the Players of the M&A Games. John Close persuasively documents how M&A fees corrupted Wall Street from serving its clients to treating them as revenue sources to be squeezed and, when emptied, discarded. Read this book; you will be thoroughly entertained and it will give you pause to think." —
Stuart L. Shapiro, Partner, Shapiro Forman Allen & Sava LLP
Book Videos
Advertisement