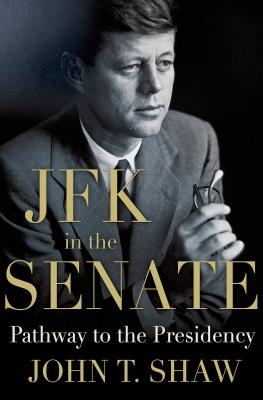 JFK in the Senate (Hardcover)
Pathway to the Presidency
Palgrave MacMillan, 9780230341838, 228pp.
Publication Date: October 15, 2013
Other Editions of This Title:
Paperback (1/6/2015)
Hardcover, Large Print (12/1/2013)
* Individual store prices may vary.
Description
Before John F. Kennedy became a legendary young president he was the junior senator from Massachusetts. The Senate was where JFK's presidential ambitions were born and first realized. In the first book to deal exclusively with JFK's Senate years, author John T. Shaw looks at how the young Senator was able to catapult himself on the national stage. Tip O'Neill once quipped that Kennedy received more publicity for less accomplishment than anyone in Congress. But O'Neill didn't understand that Kennedy saw a different path to congressional influence and ultimately the presidency. Unlike Lyndon Johnson, the Democratic leader in the Senate, JFK never aspired to be "The Master of the Senate" who made deals and kept the institution under his control. Instead, he envisioned himself as a "Historian-Scholar-Statesman" in the mold of his hero Winston Churchill which he realized with the 1957 publication of "Profiles of Courage "that earned JFK a Pulitzer Prize and public limelight. Smart, dashing, irreverent and literary, the press could not get enough of him. Yet, largely overlooked has been Kennedy's tenure on a special Senate committee to identify the five greatest senators in American history JFK's work on this special panel coalesced his relationships in Congress, and helped catapult him toward the presidency. Based on primary documents from JFK's Senate years as well as memoirs, oral histories, and interviews with his top aides, "JFK in the Senate" provides new insight into an underappreciated aspect of his political career.
About the Author
John T. Shaw is a senior correspondent and vice president for Market News International and a contributing writer for the Washington Diplomat. He is a frequent guest on C-SPAN, where he discusses Congress, as well as on KPCC, an NPR affiliate in Los Angeles. He has also appeared on the "PBS News Hour." Shaw was a Media Fellow at the Hoover Institution at Stanford University for six years, and he speaks frequently to seminars for diplomats in Washington. He lives in Washington, DC.
or
Not Currently Available for Direct Purchase