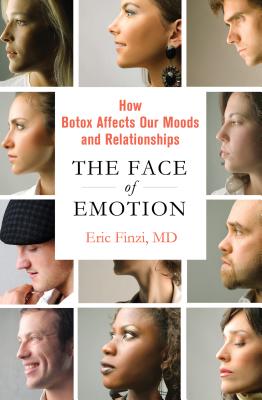 The Face of Emotion: How Botox Affects Our Moods and Relationships (Hardcover)
How Botox Affects Our Moods and Relationships
Palgrave MacMillan Trade, 9780230341852, 240pp.
Publication Date: January 29, 2013
* Individual store prices may vary.
or
Not Currently Available for Direct Purchase
Description
William Shakespeare famously wrote that "a face is like a book," and common wisdom has it that our faces reveal our deep-seated emotions. But what if the reverse were also true? What if our facial expressions set our moods instead of revealing them? What if there were actual science to support the exhortation, "smile, be happy?" Dermatologic surgeon Eric Finzi has been studying that question for nearly two decades, and in this ground breaking book he marshals evidence suggesting that our facial expressions are not secondary to, but rather a central driving force of, our emotions. Based on clinical experience and original research, Dr. Finzi shows how changing a person's face not only affects their relationships with others but also with themselves. In his studies using Botox, he has shown how inhibiting the frown of clinically depressed patients leads many to experience relief. This work is a dramatic departure from the neuroscience-based thinking on emotions that tends to view emotions solely as the result of neurotransmitters in the brain. Part absorbing medical narrative, part think piece on the nature of emotion, this is a bold call for us to rethink the causes of unhappiness.
About the Author
Eric Finzi, MD, is the medical director and president of two dermatology practices in the DC area. He has authored over 20 research publications and has been on the faculty of the Dermatology department at Johns Hopkins Medical Center. He is an active member of The American Academy of Dermatology, The American Society of Dermatologic Surgery, and The Washington Dermatologic Society. Dr. Finzi has been featured on "Good Morning America," "The" "Today Show," and A&E, and has contributed to articles in "The" "Washington Post," "Los Angeles Times," and "US News & World Report," among others.
Praise For The Face of Emotion: How Botox Affects Our Moods and Relationships…
"The Face of Emotion is well worth reading. The scientific debate about the regulation of the emotions is as lively as ever, and this is a provocative and insightful contribution."—New Scientist
"Even those who know all about [botox] will be intrigued."—The New York Times
"A cool new book…there are real lessons to be learned."—Self magazine
"A fascinating and entertaining survey of how our faces contribute to our emotions… important."—Publishers Weekly
"Facial expressions drive our feelings, as Dr. Eric Finzi persuasively describes in The Face of Emotion. Brace yourself:  this enlightening, uplifting book will exercise your zygomatic major (smile)."—Jena Pincott, author of Do Gentlemen Really Prefer Blondes?: The Science Behind Love, Sex, and Attraction
"This groundbreaking book about the relationship between facial expressions and emotions is likely to provoke great interest. Eric Finzi -- researcher, dermatologist and artist-- has crossed traditional barriers to take us on a journey that starts with Charles Darwin, who first suggested an influence of the muscles of the face on the passions of the mind, and leads all the way to Botox as an unexpected potential treatment for depression." —Norman E. Rosenthal, author of the New York Times bestseller Transcendence
Advertisement