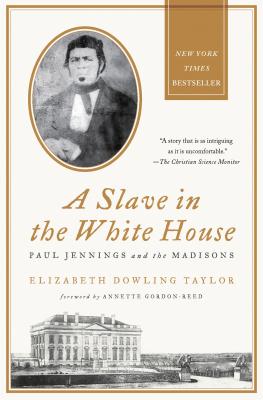 A Slave in the White House (Paperback)
Paul Jennings and the Madisons
St. Martin's Griffin, 9780230341982, 336pp.
Publication Date: February 19, 2013
Other Editions of This Title:
Hardcover (1/3/2012)
* Individual store prices may vary.
Description
Paul Jennings was born into slavery on the plantation of James and Dolley Madison in Virginia, later becoming part of the Madison household staff at the White House. Once finally emancipated by Senator Daniel Webster later in life, he would give an aged and impoverished Dolley Madison, his former owner, money from his own pocket, write the first White House memoir, and see his sons fight with the Union Army in the Civil War. He died a free man in northwest Washington at 75. Based on correspondence, legal documents, and journal entries rarely seen before, this amazing portrait of the times reveals the mores and attitudes toward slavery of the nineteenth century, and sheds new light on famous characters such as James Madison, who believed the white and black populations could not coexist as equals; French General Lafayette who was appalled by this idea; Dolley Madison, who ruthlessly sold Paul after her husband's death; and many other since forgotten slaves, abolitionists, and civil right activists.
About the Author
Elizabeth Dowling Taylor
received her PhD from the University of California at Berkeley. Over a 22-year career in museum education and historical research, she was director of interpretation at Thomas Jefferson's Monticello and director of education at James Madison's Montpelier. Most recently a fellow at the Virginia Foundation for the Humanities, Taylor is now an independent scholar and lecturer. She is the author of
A Slave in the White House
. She lives in Barboursville, Virginia.
Annette Gordon-Reed is the author of The Hemingses of Monticello: An American Family, for which she was awarded the Pulitzer Prize in History and the National Book Award. She holds three appointments at Harvard University: professor of law at Harvard Law School, professor of history in the Faculty of Arts and Sciences, and the Carol K. Pforzheimer Professor at the Radcliffe Institute for Advanced Study. A MacArthur Fellow and a recipient of the National Humanities Medal, she is also the author of Thomas Jefferson and Sally Hemings: An American Controversy; the coauthor with Vernon E. Jordan, Jr., of Vernon Can Read!; and the editor of Race on Trial: Law and Justice in American History. She lives in New York City.
Praise For A Slave in the White House: Paul Jennings and the Madisons…
"A detailed picture of the lives of Virgnia slaves and their interactions with their owners, each other, and the wider community." —Asbury Park Press
"Thanks to Elizabeth Dowling Taylor's enterprise and craftsmanship in rescuing and reanimating this significant and remarkable, but nearly forgotten, American personality, A Slave in the White House is a gift to the early history of the republic and the long story of black and white interdependence." —David Levering Lewis, author of District of Columbia: A Bicentennial History and a Pulitzer Prize winning biography of W.E.B. Du Bois
"[Paul Jennings's] remarkable life sheds new light on the central themes of American history during his lifetime and beyond. Taylor's sensitive reconstruction... yields fresh perspectives on... James and Dolley Madison... the African-American experience under slavery, the world of free blacks in Washington City during the late antebellum era, and the Civil War and its legacy. Scholars and general readers alike will not be able to put this remarkable book down." —Drew McCoy, author of The Last of the Fathers
"Elizabeth Dowling Taylor has presented us with the gift of a new American hero. With precision and compassion, Taylor deftly brings Paul Jennings out of the shadows of history. Writer, property-owner, freedom fighter, husband, and father--Jennings's life reveals the complicated humanity behind the designation "slave." This story will humble and inspire all who believe in the American Dream." —Catherine Allgor, Professor of History at the University of California at Riverside, UC Presidential Chair
"Taylor's careful reconstruction of the life of James Madison's slave valet reveals American history from a different angle. Rescuing George Washington's portrait from the British army, helping fellow slaves escape, earning his freedom from Dolley Madison with help from Daniel Webster, Paul Jennings led a life full of vivid episodes and famous personalities." —Daniel Walker Howe, Pulitzer-Prize winning author of What Hath God Wrought: The Transformation of America, 1815-1848
"The life of Paul Jennings, a slave owned by US President James Madison and his wife, Dolly, throws fascinating light on both the struggles of a black man in 19th-century America and life in the early years of the young American republic." —The Christian Science Monitor
"Who was Paul Jennings? And who was "JBR," who recorded Jennings' reminiscences, first published in 1863? How did the account get into print? And were there any Jennings descendants who could shed light on their ancestor? In "A Slave in the White House," Taylor answers those questions, and many more. ...Taylor's book brightly illuminates slave life at Montpelier and the very different, but connected, world of free blacks in Washington that Jennings joined upon gaining his freedom." —The Free Lance-Star
"a history lesson many people don't know about" —Greene County Record
"useful and informative" —The Washington Post
"provides abundant insight, and cause for reflection into a time not so long ago when human beings were treated as property, even ones owned by presidents espousing the merits of liberty. ...an eyes-wide-open, extensively researched look at the politics of slavery, and the widely-held, deeply embedded belief among white America that black America was not its equal. ...frank, engaging and well-documented account of bondage in Washington, D.C. and the south at the nation's infancy." —The Culpeper Star-Exponent
"imaginative and thorough research, careful supposition and heavy contextual description. ...Taylor reminds us of the moral failures of the Founding Fathers, especially their unwillingness to accept the notion that black people should enjoy the benefits of freedom so eloquently expressed in the nation's founding documents. ...This is an important story of human struggle, determination and triumph." —Kirkus in Dallas Morning News
"You might think you know our nation's past, but this book may surprise you. If you're up for a great historical biography, in fact, "A Slave in the White House" will surely keep you in your seat." —Houston Style Magazine
"she describes some of the subtle and not-so-subtle methods that white slaveholders, even including the libertarian Madison, used to dehumanize their "property." In Jennings' case they did not succeed, and now his struggle for a life of freedom speaks eloquently across the years." —Seattle Times
"Even if you are not a lover of biographies and/or memoirs, please pick this one up. The author did an amazing job in researching this book with the help of Jennings descendants. It's a keeper." —Seattle Post-Intelligencer (from Blogcritics)
"Taylor, who has a Ph.D. from Berkeley and for many years was a historian at the Montpelier estate, balances this portrait with a scrupulous unearthing of the plantation's less-than-noble reality...Taylor leavens this morbid tale with Paul Jennings's remarkable story." —The Daily Beast
"What emerges is a portrait of a remarkably willful, ambitious, opportunistic, and in his own way well-connected American whose life came to embody what the Civil War historian Gabor Boritt has called the "right to rise." You could also call it the American dream." —Fortune