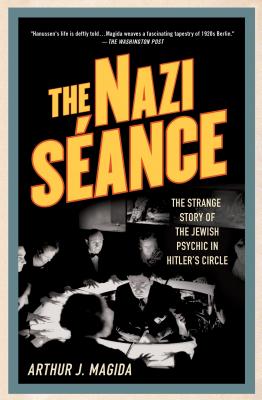 The Nazi Seance (Paperback)
The Strange Story of the Jewish Psychic in Hitler's Circle
Palgrave MacMillan, 9780230342040, 269pp.
Publication Date: February 12, 2013
Other Editions of This Title:
Hardcover (11/22/2011)
* Individual store prices may vary.
Description
World War I left Berlin, and all of Germany, devastated. Charlatans and demagogues eagerly exploited the desperate crowds. Fascination with the occult was everywhere in private seances, personalized psychic readings, communions with the dead as people struggled to escape the grim reality of their lives. In the early 1930s, the most famous mentalist in the German capital was Erik Jan Hanussen, a Jewish mind reader originally from Vienna who became so popular in Berlin that he rubbed elbows with high ranking Nazis, became close with top Storm Troopers, and even advised Hitler.
Called "Europe's Greatest Oracle Since Nostradamus," Hanussen assumed he could manipulate some of the more incendiary personalities of his time just as he had manipulated his fans. He turned his occult newspaper in Berlin into a Nazi propaganda paper, personally assured Hitler that the stars were aligned in his favor, and predicted the infamous Reichstag Fire that would solidify the Nazis' grip on Germany.
Seasoned with ruminations about wonder and magic (and explanations of Hanussen's tricks), "The Nazi Seance" is a disturbing journey into a Germany as it descends into madness aided by a "clairvoyant" Jew oblivious to the savagery of men who pursued a Reich they fantasized would last 1,000 years.
About the Author
Arthur J. Magida is writer-in-residence at the University of Baltimore and an adjunct professor at Georgetown University. He has been a columnist for Beliefnet.com, a contributing correspondent to PBS's Religion & Ethics Newsweekly, senior editor of the Baltimore Jewish Times, environmental reporter for National Journal, and a writer and editor for Ralph Nader. He has receivedmultiple Simon Rockower Awards from the American Jewish Press Association, A.D. Emmart Awards for writing on the humanities, and Smolar Awards for Excellence in Jewish Journalism. He lives in Baltimore, Maryland.
Praise For The Nazi Seance: The Strange Story of the Jewish Psychic in Hitler's Circle…
"Hanussen's life is deftly told . . . Magida weaves a fascinating tapestry of 1920s Berlin." -- The Washington Post
"An astonishing story, brilliantly told."—Roger Moorhouse, author of Killing Hitler
"Magida paints a vivid tale of the era."—City Paper
"Hanussen (and his relation to Hitler) is one of the strangest enigmas of the pre-war era. Arthur Magida has done a great service in illuminating this figure of mystery—and the light his story reflects on the growing darkness surrounding him."—Ron Rosenbaum, author of Explaining Hitler and How the End Begins
"The Nazi Séance is a fascinating journey into the magical thinking of Hitler and his cronies, and the life of a Jewish conjuror who tried -- and failed – the ultimate magic trick: to survive Nazi Germany as one of Hitler's own."--Stephen L. Macknik & Susana Martinez-Conde, authors of Sleights of Mind: How the Neuroscience of Magic Reveals Our Everyday Deceptions

"In a history that reads like a novel, Arthur Magida, gives us much more than a finely written researched and well-researched examination of the "Nazi" Jewish psychic."--Lawrence Kushner, author of Kabbalah: A Love Story

"Magida's passion illuminates a thoroughly researched and engaging account of a momentous, sinister, and also at times tragicomic episode of German history."–-Christopher Sandford, author of Masters of Mystery: the Strange Friendship of Arthur Conan Doyle and Harry Houdini
"Arthur Magida's haunting and vivid historical portrait illustrates how opportunism and spiritual fashion flourished on the margins of the Third Reich. It is a chilling parable about the ultimate price paid by those who blindly allied themselves with brute power."--Mitch Horowitz, author of Occult America
"Magida gets inside the head of the notorious Jewish clairvoyant who helped the Nazis rise to power."—Peter Lamont, author of The First Psychic
"Magida's narrative takes on the palpable dread of a thriller . . . The Nazi Séance not only demonstrates the impossibility of telling the future; it also shows how difficult it is to accurately understand the present." – Urbanite Magazine
"Arthur Magida's The Nazi Séance offers a fascinating and shocking portrait of a Jewish mind reader who moved into the highest echelons of German society just as the Nazi party was ramping up. It is a gripping portrait of a man who was a celebrity in his day and age and galvanized crowds. In the end, though, Hanussen was simply a mortal who could not immunize himself from anti-Semitism."--Abraham H. Foxman, National Director of the Anti-Defamation League and Holocaust survivor
"Intriguing and disturbing."—The Mail
or
Not Currently Available for Direct Purchase