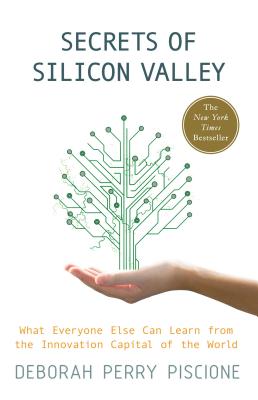 Secrets of Silicon Valley: What Everyone Else Can Learn from the Innovation Capital of the World (Hardcover)
What Everyone Else Can Learn from the Innovation Capital of the World
Palgrave MacMillan, 9780230342118, 249pp.
Publication Date: April 2, 2013
* Individual store prices may vary.
or
Not Currently Available for Direct Purchase
Description
While the global economy languishes, one place just keeps growing despite failing banks, uncertain markets, and high unemployment: Silicon Valley. In the last two years, more than 100 incubators have popped up there, and the number of angel investors has skyrocketed. Today, 40 percent of all venture capital investments in the United States come from Silicon Valley firms, compared to 10 percent from New York. In "Secrets of Silicon Valley," entrepreneur and media commentator Deborah Perry Piscione takes us inside this vibrant ecosystem where meritocracy rules the day. She explores Silicon Valley's exceptionally risk-tolerant culture, and why it thrives despite the many laws that make California one of the worst states in the union for business. Drawing on interviews with investors, entrepreneurs, and community leaders, as well as a host of case studies from Google to Paypal, Piscione argues that Silicon Valley's unique culture is the best hope for the future of American prosperity and the global business community and offers lessons from the Valley to inspire reform in other communities and industries, from Washington, DC to Wall Street.
About the Author
Deborah Perry Piscione is CEO of Alley to the Valley, an organization that networks the world's most influential women for dealmaking, and BettyConfidential. She is also a commentator on CNN and NPR, and has appeared as a guest on the Today show, Wolf Blitzer Reports, The O'Reilly Factor, Hardball with Chris Matthews, and Politically Incorrect, and has been a featured guest on PBS, BET, andNPR programs including The Tavis Smiley Show. Piscione has won numerous awards, including the 2009 Silicon Valley Women Business Owner of the Year, a Gracie Allen Award for her participation in a debate for NPR's Justice Talking, and a distinguished award from The White House Project. She has been featured in leading women's magazines such as Ladies' Home Journal, and in newspapers including The New York Times, Chicago Tribune, and Dallas Morning News. She lives in Silicon Valley, California.
Praise For Secrets of Silicon Valley: What Everyone Else Can Learn from the Innovation Capital of the World…
"Piscione offers a bird's-eye view of one of the most exceptional economic ecosystems in the U.S., which is sure to interest entrepreneurs and leaders alike."—Publishers Weekly
"A valuable glimpse of a mecca of innovation."—Kirkus Reviews
"A mixture of captivating history and thought-provoking anecdotes. Perry Piscione gives you an appreciation for both the legends that built Silicon Valley and the visionaries who continue to reinvent it all over again."—Barbara Corcoran, Investor, Co-host ABC Shark Tank
"Perry Piscione shows how innovation is the religion Silicon Valley believes in, the sport they play and the air they breathe.  Secrets of Silicon Valley shows how living and working in Silicon Valley creates a culture that celebrates success like nowhere else."—Vijay Govindarajan, professor at Tuck at Dartmouth and author of NYT and WSJ Best Seller Reverse Innovation
"A must read. Deborah Perry Piscione captures the importance of unregulated freedom and the societal pride around Silicon Valley's entrepreneurial heroes."—Tim Draper, Founder & Managing Partner, Draper Fisher Jurvetson 
"A powerful combination of history, original reporting and anthropological observation, Perry Piscione dares every politician in America -- or better, the world -- to discover the  secrets of Silicon Valley's success and its continuous cycles of innovation."—U.S. Rep. Ileana Ros-Lehtinen, Chairman, House Foreign Affairs Subcommittee on Middle East and South Asia
"Perry Piscione has opened a window into the great mystery of what moves Silicon Valley's engine. Every corporate executive, policymaker, and entrepreneur should take a peek into how this prolific community does its business."--Eric Dezenhall, CEO, Dezenhall Resources and author of Damage Control
"The only way to describe Jamis (perhaps Silicon Valley's version of Donald Trump) and how powerful Buck's restaurant is, is to share that on any given day it is the gathering of the most powerful venture capitalists to CEO's to the over 100 media outlets that visits per year to the foreign delegations who will hang out at Buck's for days to figure out how Silicon Valley works."--Jamis MacNiven, owner of Buck's restaurant, Woodside California
Advertisement