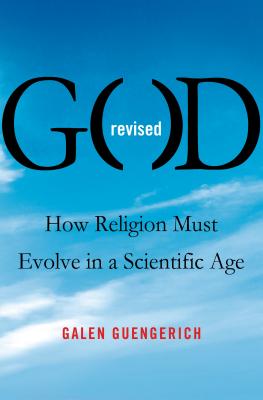 God Revised
How Religion Must Evolve in a Scientific Age
Hardcover

* Individual store prices may vary.
Description
Over the past few decades, the ever-expanding scientific knowledge of the universe and the human condition, combined with the evolution from religion-based to personal morality, has led to a mass crisis of faith. Leaders of most Protestant and Catholic religious traditions, which include nearly 80 percent of Americans, have watched their memberships stagnate or dwindle. Over the years, philosophers and scientists have argued that science has in fact "killed" God, and that if we believe the facts science has presented, we must also accept that God is fiction. Others, holding fast to their long-standing doctrines, attempt to justify their beliefs by using God to explain gaps in scientific knowledge. Having left an upbringing in a family of Mennonite preachers to discover his own experience of God, Galen Guengerich understands the modern American struggle to combine modern world views with outdated religious dogma. Drawing upon his own experiences, he proposes that just as humanity has had to evolve its conception of the universe to coincide with new scientific discoveries, we are long overdue in evolving our concept of God. Gone are the days of the magical, supernatural deity in the sky who visits wrath upon those who have not followed his word. Especially in a scientific age, we need an experience of a God we can believe in—an experience that grounds our morality, unites us in community, and engages us with a world that still holds more mystery than answers.
Praise For God Revised: How Religion Must Evolve in a Scientific Age…
"Guengerich articulates an approach to religion that embraces community in its widest, most inclusive sense and does not dig in its heels when religious texts come in conflict with science. A rare and civilized antidote..." —Matthew Chapman, Writer/director of "The Ledge," author of "40 Days And 40 Nights," co-founder of ScienceDebate, and great-great-grandson of Charles Darwin
"…intellectually rich… lucid, compelling, and accessible…" —Gary Dorrien, Reinhold Niebuhr Professor of Social Ethics at Union Theological Seminary in New York, Professor of Religion at Columbia University, and Author of the 3-volume series The Making of American Liberal Theology
"…brilliant synopsis of a big idea from revelation to relativity… In this provocative read, the deity survives the Enlightenment intact enough to remain persuasive in a secular age. God Revised offers God an excellent chance to remain viable." —David Levering Lewis, Two-time Pulitzer Prize-winning biographer of W.E.B. DuBois, and Author of God's Crucible: Islam and the making of Europe, 570-1215
"In God Revised, Galen Guengerich ambitiously, modestly, provocatively and lyrically calls for nothing less than the transformation of religion. Part irresistible memoir, part erudite theological exegesis, part dazzling cultural history, this unique work makes the idea of finding "a god we can believe in" feel necessary, relevant--and most of all, thrilling. God Revised is an adventure that will enrich you, and stay with you." —Wednesday Martin, Columnist for Psychology Today and author of Stepmonster: A New Look at Why Real Stepmothers Think, Feel, and Act the Way We Do
"Guengerich speaks for those of us who reject both the unbelief of atheism and the hyper-belief of traditional religion. He eloquently argues that "the reason religion is necessary, after all, isn't so we can find salvation for the next life, but rather so we can find meaning and purpose in this one." With wit, wisdom and compassion, Guengerich will convince you that this is how to live a godly life in the 21st century." —Elisabeth Robinson, Author, The True & Outstanding Adventures of the Hunt Sisters
"If you've ever thought of yourself as spiritual but not religious, as so many have, this is the book for you. Galen Guengerich masterfully illuminates what it means to be both, taking on rabid skeptics as readily as entrenched believers. The result is a book that both re-casts the concept of God and restores our faith in the human." —William F. Schulz, Former Executive Director, Amnesty International USA
"Galen Guengerich has written a book so comprehensive, personal, inquisitive, rational, and emotional that no reader can walk away from it without having to rethink faith, deepen spirituality, affirm science, and live as a better citizen of the world." —C. Welton Gaddy, President, Interfaith Alliance
"Guengerich…offers a discursive meditation on how religion can fit into a scientific worldview. He rejects a supernatural, all-knowing God, yet still finds the need for a faith that gives life meaning." —Publishers Weekly
St. Martin's Press, 9780230342255, 240pp.
Publication Date: May 28, 2013
About the Author
Rev. Dr. Galen Guengerich serves as the senior minister of All Souls in New York City, one of the largest and most prominent Unitarian Universalist congregations in the nation. He is the author of God Revised. He attended Princeton Theological Seminary, and earned a PhD in theology at the University of Chicago. His sermon "The Shaking of the Foundations" appeared in Representative American Speeches 2001-2002 as one of seven responses to September 11, alongside former President George Bush and former Mayor Rudolph Giuliani.
or
Not Currently Available for Direct Purchase