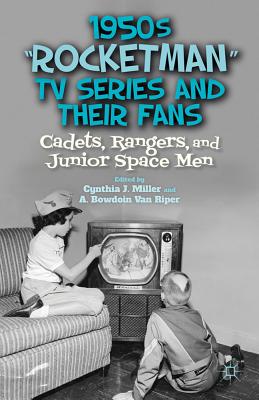 1950s "rocketman" TV Series and Their Fans (Hardcover)
Cadets, Rangers, and Junior Space Men
Palgrave MacMillan, 9780230377318, 270pp.
Publication Date: August 30, 2012
* Individual store prices may vary.
Description
The fourteen essays featured here focus on series such as Space Patrol, Tom Corbett, and Captain Z-Ro, exploring their roles in the day-to-day lives of their fans through topics such as mentoring, promotion of the real-world space program, merchandising, gender issues, and ranger clubs - all the while promoting the fledgling medium of television.
About the Author
Jean-Noel Bassoir - writer Mick Broderick - Murdoch University Gary Coville - media historian Wheeler Winston Dixon - University of Nebraska, Lincoln Amy Foster - University of Central Florida Gary A. Hughes - filmmaker Robert Jacobs - Hiroshima City University Henry Jenkins - University of Southern California Roy Kinnard - writer Patrick Lucanio - writer Howard McCurdy - American University Lawrence R. Samuel - Founder of Culture Planning LLC J. P. Telotte - Georgia Tech John C. Tibbetts - University of Kansas S. Mark Young - University of Southern California
Praise For 1950s "rocketman" TV Series and Their Fans: Cadets, Rangers, and Junior Space Men…
'1950s "Rocketman" TV Series and Their Fans is a loving and bold exploration of a nearly forgotten period of Americana. Accurate, scholarly, full of insight—and great fun to read!' – Greg Bear, author of Blood Music

'Cynthia J. Miller and A. Bowdoin Van Riper have assembled a sterling set of essays on science fiction television of the 1950s and the rise of the "rocketman" ideal that remains critical to American popular culture. From Captain Video to Commando Cody, from Space Patrol to Space Rangers, this collection of essays, written by a who's who of scholars investigating this topic, analyze themes of Cold War, conquest, and consumerism in relation to space enthusiasm.' –-Roger Launius, senior curator at the National Air and Space Museum, and former chief historian NASA
"Isaac Asimov told me, 'Science fiction writers and readers didn't put a man on the moon all by themselves, but they created a climate of opinion in which the goal of putting a man on the moon became acceptable.' I can't help but think that space serials and comic books were a big part of that acceptance." - James Gunn, recipient of the Damon Knight Memorial Grand Master Award for lifetime achievement in science fiction