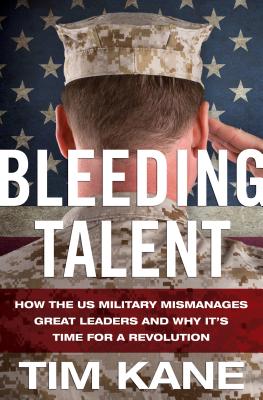 Bleeding Talent: How the US Military Mismanages Great Leaders and Why It's Time for a Revolution (Hardcover)
How the US Military Mismanages Great Leaders and Why It's Time for a Revolution
Palgrave MacMillan, 9780230391277, 271pp.
Publication Date: January 4, 2013
Description
Shaping the debate on how to save the military from itself. The first part recognizes what the military has done well in attracting and developing leadership talent. The book then examines the causes and consequences of the modern military's stifling personnel system and offers solutions for attracting and retaining top talent.
About the Author
TIM KANE is the Chief Economist at Hudson Institute and founder of the social networking firm, StoryPoint. Kane's research on entrepreneurship and job creation has been widely cited, notably in the 2011 Economic Report of the President. He has served in multiple executive and scholarly roles at think tanks and universities. Kane has appeared often on CNN, CNBC, FOX, and PBS' Nightly Business Report. Previously, Kane served as an intelligence officer in the U.S. Air Force, serving two tours of duty in Asia. He earned a bachelor's degree from the U.S. Air Force Academy and a doctorate in economics from the University of California San Diego, USA. He lives in Virginia with his wife and their four children.
Praise For Bleeding Talent: How the US Military Mismanages Great Leaders and Why It's Time for a Revolution…
"Tim Kane's analysis is compelling and his findings are relevant for other organizations, public and private, that risk bleeding talent. For anyone interested in the future of the American military after more than a decade of war, this is a must read book." - David H. McCormick, Former Under Secretary for International Affairs, U.S. Treasury

"At a time when more attention is being paid to the need for creative destruction - and nondestructive creation - by America's entrepreneurs, startup maven Tim Kane shines the spotlight on the creativity of veterans and men and women in the military. Bleeding Talent is a must read for those seeking a more effective and efficient military. Kane asks the big question: What can we do to harness the entrepreneurial talent inside to bring an innovation culture to the military?" - Glenn Hubbard, Dean, Columbia Business School, and former Chairman of the Council of Economic Advisers

"Most Washington wonks forget that human capital is the most important weapon in the Pentagon's arsenal. Tim Kane reminds us that our troops win wars. At a minimum, they deserve a personnel system that rewards voluntary service with more autonomy and less coercion." - James Jay Carafano, Director, Foreign Policy Studies, The Heritage Foundation

"Since the two Gulf Wars, the US military has becoming widely admired - and properly feared - as the preeminent fighting force in the world. It also is an exemplary meritocratic institution - or is it? That is the challenging question that Tim Kane, a former Air Force officer, addresses in this pioneering and thought provoking study. While praising the military for what it does right, Kane also offers a timely and well document constructive critique of how the military could do much better to hold onto its best and brightest. This is a must read for everyone in the military, our political leaders who oversee it, and citizens who care about it." - Robert E. Litan, Vice President, Research and Policy, The Kauffman Foundation and Senior Fellow, Economic Studies, The Brookings Institution
Advertisement