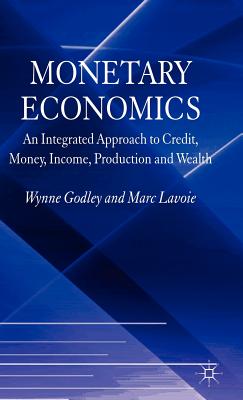 Monetary Economics (Hardcover)
An Integrated Approach to Credit, Money, Income, Production and Wealth
Palgrave MacMillan, 9780230500556, 530pp.
Publication Date: December 1, 2006
Other Editions of This Title:
Paperback (1/1/2007)
* Individual store prices may vary.
Description
This book challenges the mainstream paradigm, based on the inter-temporal optimisation of welfare by individual agents. It introduces a methodology for studying how it is institutions which create flows of income, expenditure and production together with stocks of assets and liabilities, thereby determining how whole economies evolve through time.
About the Author
WYNNE GODLEY was formerly Director of the Department of Applied Economics at the University of Cambridge, UK, from 1970 to 1994, and subsequently a Professor of Applied Economics. During this period, from 1987-1988, he was also a Visiting Professor at University of Aalborg, Denmark. Between 1994 and 2001, Professor Godley was a Distinguished Scholar at the Levy Economics Institute of Bard College, New York. Professor Godley joined CERF as a Visiting Research Associate in 2002. MARC LAVOIE is Professor in the Department of Economics at the University of Ottawa, Canada. He has been Visiting Professor at Curtin University, Australia, and at the universities of Bordeaux, Grenoble, Lille, Limoges, Nice, Rennes, Paris-1 and Paris-13. His main research areas are in post-Keynesian and monetary economics. He has written over 130 journal articles or book chapters as well as authoring Foundations of Post-Keynesian Economics and co-edited Central Banking in the Modern World.