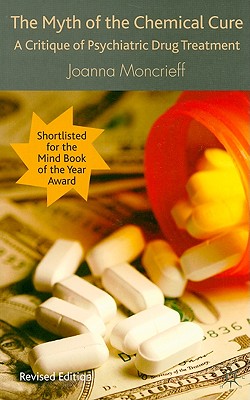 The Myth of the Chemical Cure
A Critique of Psychiatric Drug Treatment
Paperback

* Individual store prices may vary.
Other Editions of This Title:
Hardcover (12/4/2007)
Description
This book overturns the idea that psychiatric drugs work by correcting chemical imbalance and analyzes the professional, commercial and political vested interests that have shaped this view. It provides a comprehensive critique of research on drugs including antidepressants, antipsychotics and mood stabilizers.
Praise For The Myth of the Chemical Cure: A Critique of Psychiatric Drug Treatment…
'This book is critically important and should be essential reading for all psychiatrists, politicians, service providers, and user groups. Why? Because Joanna Moncrieff's central tenet is right, and the implications for service delivery are profound. The book is closely argued and well referenced. Even if you disagree with some of its overall premises, it is not legitimate to dismiss it. I urge you to read it if only as a prompt to a critical evaluation of the status quo, never a bad thing, and almost always an illuminating exercise.' - Sarah Yates, Cambridge, UK

'This is a sober and thoughtful book. I found it very engaging and worth the effort to be better informed about a subject that affects many of our clients and impinges on our professional lives as therapists.' - Existential Analysis (Society for Existential Analysis)

'...Joanna Moncrieff, a practising psychiatrist and academic, has produced a devastating critique of the use of psychiatric drugs...This courageous book has the potential to revolutionise psychiatric practice and the care of people with many forms of mental distress. Many in the therapy professions will, I am sure, celebrate its message.' - Rachel Freeth, Therapy Today

'This book does what it says on the cover. It is a concise, powerful, well-referenced and well-constructed critique of psychiatric drug treatment...If I had the power to, I would make it essential reading on all counselling and psychotherapy trainings.' - Pete Sanders, Healthcare Counselling and Psychotherapy Journal
Palgrave MacMillan, 9780230574328, 278pp.
Publication Date: December 4, 2007
About the Author
Joanna Moncrieff is a Senior Lecturer at University College London, UK and a practising consultant psychiatrist. She is co-chair person of the Critical Psychiatry Network and author of The Myth of the Chemical Cure.