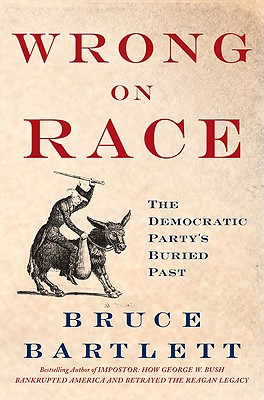 Wrong on Race (Hardcover)
The Democratic Party's Buried Past
Palgrave MacMillan, 9780230600621, 268pp.
Publication Date: January 8, 2008
Other Editions of This Title:
Paperback (1/6/2009)
* Individual store prices may vary.
Description
In "Wrong on Race," Bruce Bartlett sets the record straight on a hidden past that many Democrats would rather see swept under the carpet. Ranging from the founding of the Republic through to today, it rectifies the unfair perceptions of America's two national parties. While Nixon's infamous "Southern Strategy" is constantly referenced in the media, less well remembered are Woodrow Wilson's segregation of the entire Federal civil service; FDR's appointment of a member of the KKK to the Supreme Court; John F. Kennedy's apathy towards civil rights legislation; and the ascension of Robert Byrd, who is current President pro tempore of the Senate, third in line in the presidential line of succession, and a former member of the KKK.
For the last seventy years, African Americans have voted en masse for one party, with little in the end to show for it. Is it time for the pendulum to swing the other way? With the Republican Party furiously engaged in pre-2008 soul searching, this exhaustively researched, incisively written expose will be an important and compelling component of that debate as we head towards November.
About the Author
Bruce Bartlett has had a nationally syndicated newspaper column for the last ten years, and has written for "The New York Times," "Wall Street Journal," "Commentary," "The National Review," and "Fortune." He was a domestic policy adviser to President Ronald Reagan and a treasury official under President George H.W. Bush.
Praise For Wrong on Race: The Democratic Party's Buried Past…
"Bruce Bartlett brandishes a damning history of the Democratic Party, which for 100 years after the Civil War provided a fertile ground for Jim Crow and white supremacy. Democrats have long acted behind an ethos of racial equality, yet, as Bartlett powerfully illustrates, the reality of their patchy record over the last two centuries in fact lends little credibility to that claim. Compelling and incisive."--Grover G. Norquist, President, Americans for Tax Reform
"Wrong on Race is an important contribution to the study of party politics in America. Bartlett offers a thorough, well documented account of the racial roots of the Democratic party. This book should be a required reading for African-Americans of all ages, and especially for the nation's youth."--Carol Swain, Professor of Political Science and Law, Vanderbilt University, and editor of Debating Immigration
"Wrong on Race powerfully recapitulates a twentieth century journey into racial pettifogging and outright confusion, and in doing so shines a light as clear as the meridian sun on the realities of racial politics…Bruce Bartlett has done what no one before him has done, and it is all the more remarkable, therefore, to say that it will probably never be better done."--Professor William B. Allen, Michigan State University; and former chairman, U.S. Civil Rights Commission
"The Democratic party is widely credited, not least by black writers, as the party that has done the most for civil rights. Yet for most of its history it has been the other way around. As Bruce Bartlett points out in Wrong on Race, Democratic icons like Woodrow Wilson worked to impose segregation on blacks, and even Franklin Roosevelt did little for equal rights."--Michael Barone, syndicated columnist, co-author of The Almanac of American Politics, and author of Our First Revolution
Praise for
Imposter: How George W. Bush Bankrupted America and Betrayed the American Legacy
:
"It's a fairly devastating indictment of the current administration's economic policies from a conservative-to-libertarian perspective."--Chris Suellentrop,
The Washington Post
"Liberal commentators gripe so frequently about the current administration that it's become easy to tune them out, but when Bartlett, a former member of the Reagan White House, says George W. Bush has betrayed the conservative movement, his conservative credentials command attention."--
Publishers Weekly
"Bruce Bartlett is no impostor. He's the
real thing--
a reality-based conservative who searches for supportable truths and then speaks them loudly and clearly."--Ron Suskind, Pulitzer Prize-winning author of
The Price of Loyalty
"Bruce Bartlett has long been one of Washington's most searching, thoughtful, and uncompromisingly candid analysts. That's a view shared not only by those who agree with him, but also by people like me, who differ with him about 80 percent of the time. This book is a perfect reflection of Bruce's gifts: he cares far more about being honest and consistent than about following anyone's party line."--E. J. Dionne Jr., author of
Stand Up Fight Back
and
Why Americans Hate Politics
or
Not Currently Available for Direct Purchase