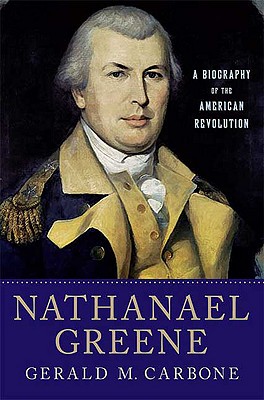 Nathanael Greene: A Biography of the American Revolution (Hardcover)
A Biography of the American Revolution
Palgrave MacMillan, 9780230602717, 268pp.
Publication Date: June 24, 2008
Description
When the Revolutionary War began, Nathanael Greene was a private in the militia, the lowest rank possible, yet he emerged from the war with a reputation as George Washington's most gifted and dependable officer--celebrated as one of three most important generals. Upon taking command of America's Southern Army in 1780, Nathanael Greene was handed troops that consisted of 1,500 starving, nearly naked men. Gerald Carbone explains how within a year, the small worn-out army ran the British troops out of Georgia, South Carolina, and North Carolina and into the final trap at Yorktown. Despite his huge military successes and tactical genius Greene's story has a dark side. Gerald Carbone drew on 25 years of reporting and researching experience to create his chronicle of Greene's unlikely rise to success and his fall into debt and anonymity.
About the Author
Gerald M. Carbone is the author of "Nathanael Greene," and was a journalist for twenty-five years, mostly for the "Providence Journal." He has won two of American journalism's most prestigious prizes--the American Society of Newspaper Editors Distinguished Writing Award and a John S. Knight Fellowship at Stanford University. He lives in Warwick, RI.
Praise For Nathanael Greene: A Biography of the American Revolution…
"The personality of George Washington has so dominated the story of the American revolution that many of his able lieutenants have been relegated to history's sidelines. One of these, Nathanael Greene, is now the subject of…a engaging new biography by Rhode Island journalist Gerald M. Carbone…[who] has made extensive use of the Greene papers, and these afford a rounded portrait of his subject." – The Washington Times
"Carbone gives a little-known Revolutionary War leader his due in this admiring biography... [A] lucid account of the Revolutionary War from the point of view of its most successful general." -- Kirkus
"A brisk march through Greene's short life (44 years) but action-packed military career…Arranging events in a chronological illustration of Greene's canniness in the duel of Cornwallis, Carbone's informative portrait should connect with the American Revolution readership." --
Booklist
"Although Nathanael Greene's miliary accomplishments generally receive less attention than Benedict Arnold's or Lafayette's, historians consider him the better general. Journalist Carbone's lively chronicle corrects this neglect...He should be known better, and this well-researched chronicle...is a good first step." --
Publisher's Weekly
"To this much-needed new biography of America's most unjustly neglected Revolutionary War hero, Gerald Carbone brings a journalist's concision, a storyteller's eye for illuminating detail, a wry New England sensibility, and a historian's diligence. The result is a compelling account of how Nathanael Greene, the self-taught former Quaker ironmaster from Rhode Island, made himself over into the Continental Army's finest strategist and one of the best minds of Enlightenment America. Carbone carries us deftly through the triumphs and tragedies of this remarkable life, offering us a Founder of flesh, blood, acumen and ambition who, had he lived longer and his luck been kinder, might even have become president." --Charles F. Price, award-winning author of
Freedom's Altar
and of
Nor the Battle to the Strong
"Ged Carbone has written a lively, accessible biography of one of the truly great strategists in American history, Major General Nathanael Greene, second only to Washington in the pantheon of heroes of the War of the Revolution." --John Buchanan, author of
The Road to Guilford Courthouse
"Nathanael Greene remains one of the American Revolution's most compelling yet unsung heroes. In
Nathanael Greene
Gerald Carbone provides a complex and absorbing portrait of a resourceful general, a devoted husband, an unfortunate businessman and an ardent American patriot. Carbone cleary admires his subject but also portrays his all-too-human human sides. Well-researched, the general's story is told against a backdrop of dramatic battle scenes, wonderful characters and revolution that seems on the verge of collapse if not for the extraordinary sacrifices of figures such as Greene, to whom all Americans will be forever indebted."--Mark Puls, award-winning author of
Samuel Adams
and of
Henry Knox
"With a journalist's eye for telling anecdote and pithy, but illuminating, quotation, Ged Carbone makes Nathanael Greene come alive in this lively, readable biography that is also very good history." --Dennis Conrad, Editor, Papers of General Nathanael Greene
Advertisement