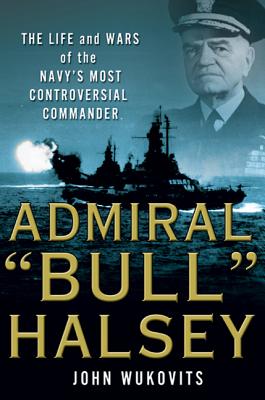 Admiral "Bull" Halsey: The Life and Wars of the Navy's Most Controversial Commander (Hardcover)
The Life and Wars of the Navy's Most Controversial Commander
Palgrave MacMillan, 9780230602847, 282pp.
Publication Date: July 6, 2010
* Individual store prices may vary.
or
Not Currently Available for Direct Purchase
Description
The definitive biography of America's best-known naval officer, who commanded the legendary fast carrier force during WWII.
From the tragic aftermath of Pearl Harbor, when he fashioned America's first response to the attack, to the war's final day in Tokyo Bay when he witnessed Japan's surrender, Admiral William F. Halsey stamped a mighty imprint on the Pacific during World War II. He led or participated significantly in the Navy's first offensive strikes against the Marshall Islands and Wake Island, the Guadalcanal campaign, and the offensive toward Japan. As a commander, he never shied from engaging the enemy, but boldly entered into battle, ready for a fight. As a consequence, Halsey became the face of the Navy and its most attractive public relations phenomenon. Due to his bold tactics and quotable wit, Halsey continues to be a beloved and debated figure.
In this balanced biography, historian John Wukovits illuminates the life of a man who ultimately deserves recognition as one the great naval commanders in U.S. history. Europe had Patton; the Pacific had Admiral William "the Bull" Halsey.
About the Author
John Wukovits is the author of Pacific Alamo, One Square Mile of Hell, and Eisenhower. His writings have appeared in numerous publications including The Washington Post and The Chicago Tribune. He lives in Trenton, MI.
Praise For Admiral "Bull" Halsey: The Life and Wars of the Navy's Most Controversial Commander…
Praise for Admiral "Bull" Halsey:  "A thorough, balanced, and readable biography of a great but flawed man. Halsey was a hero of the Second World War, and despite some blunders, he deserves this rich and exciting tribute."--Evan Thomas, author of Sea of Thunder "Halsey--one of only four naval officers ever promoted to the five-star rank of fleet admiral--was an aggressive war-fighter with a combative personality, attributes that brought him fame in his lifetime and un-warranted derision in more recent times. Well, it's time to set the record straight, as Wukovits does with admirable candor."--Brayton Harris, author of Age of the Battleship and The Navy Times Book of Submarines "The author argues persuasively that these errors are not the sum of Halsey's career, however, and that his strategic and tactical judgments were more often sound than not. With his aggressiveness and charisma added in, he emerges as one of the great sea warriors in American history."—Booklist
"Popular military historian Wukovits economically and convincingly refurbishes a WWII hero inappropriately grown unfashionable... Wukovits fully justifies "Bull" Halsey's place among America's greatest admirals." --Publishers Weekly
"An admiring reappraisal of the belligerent fleet commander who carried the day for the American Navy during World War II. [Wukovits] makes a good case that Halsey was the much-needed warrior for America's darkest hour. A solid biography of a significant American military leader." --Kirkus
Advertisement