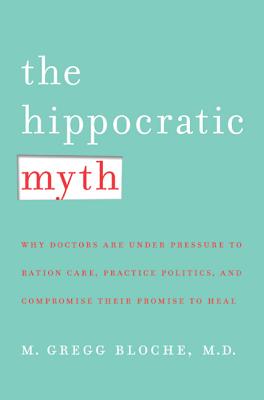 The Hippocratic Myth (Hardcover)
Why Doctors Are Under Pressure to Ration Care, Practice Politics, and Compromise Their Promise to Heal
Palgrave MacMillan Trade, 9780230603738, 272pp.
Publication Date: March 15, 2011
* Individual store prices may vary.
Description
When we're ill, we trust in doctors to put our well-being first. But medicine's expanding capability and soaring costs are putting this promise at risk. Increasingly, society is calling upon physicians to limit care and to use their skills on behalf of health plan bureaucrats, public officials, national security, and courts of law. And doctors are answering this call. They're endangering patients, veiling moral choices behind the language of science and, at times, compromising our liberties. In "The Hippocratic Myth," Dr. M. Gregg Bloche marshals his expertise in medicine and the law to expose how:
*Doctors are pushed into acting both as caregivers and cost-cutters, compromising their fidelity to patients
*Politics keeps doctors from giving war veterans the help they need
*Insurers and hospital administrators pressure doctors to discontinue life-saving treatment, even when patients and family members object
*Medicine has become a weapon in America's battles over abortion, child custody, criminal responsibility, and the rights of gays and lesbians
*The war on terror has exploited clinical psychology to inflict harm
Challenging, provocative, and insightful, The Hippocratic Myth breaks the code of silence and issues a powerful warning about the need for doctors to forge a new compact with patients and society.
About the Author
M. Gregg Bloche is an award-winning health policy expert and a professor of law at Georgetown University. He has written for the New York Times, the New England Journal of Medicine, and other leading publications and has appeared on 60 Minutes, NBC, CNN, ABC, National Public Radio, and more. Bloche, who received a Guggenheim Fellowship to write The Hippocratic Myth was a health care advisor to President Obama's 2008 campaign and a consultant to the World Health Organization.
Praise For The Hippocratic Myth: Why Doctors Are Under Pressure to Ration Care, Practice Politics, and Compromise Their Promise to Heal…
"Bloche writes with sensitivity and empathy not just about patients and physicians caught up in managed-care catastrophes, but about all the weird variations on the patient-physician dyad spawned by the expanding public role for medicine ... The empathy, sensitivity and care of his arguments are not surprising, given his background, but they are no less laudable for that." -- The Washington Post "Bloche deserves kudos for taking on such disheartening, pressing subjects, for asking tough questions, and for finally offering dramatic reforms. This is a valuable look at the world of medicine." --Publishers Weekly
"An intriguing examination of the moral and political dimensions of some of the most important medical issues of the day."--Sandeep Jauhar, author of Intern: A Doctor's Initiation
"In the Hippocratic Myth, Dr. Gregg Bloche offers a beautifully written, thoughtful, and compelling account of the many ways doctors today are called upon to compromise their adherence to the Hippocratic Oath while appearing to remain faithful.  Bloche looks at this cluster of issues in different contexts, from the covert rationing of care to use of medical skills in the context of lethal injections.  As a doctor and a legal scholar, Bloche knows firsthand what the tensions are. The Hippocratic Myth offers readers a series of vivid, sometimes heart-wrenching stories in the context of a careful portrayal of the challenges facing our health care delivery system.  Bloche's account will appeal to a general public hungry for ways to make sense of doctors' role within our health care system.  An important, subtle and powerful book."—Elyn Saks, author of The Center Cannot Hold
"As Gregg Bloche argues so persuasively in this important new book, it is but a short distance from the Hippocratic Oath to medical hypocrisy.  In the contemporary world, where medicine so often finds itself enmeshed in multiple social, political, and industrial interests, doctors can no longer honestly promise exclusive devotion to their patients.  The time has come, Bloche powerfully demonstrates, for transparency and democratic debate about the hard choices we face and the future of professional ideals. " --Allan M. Brandt, The Cigarette Century: The Rise, Fall, and Deadly Persistence of the Product that Defined America
"Gregg Bloche deftly tells real-life stories that capture medicine's expanding public role – and its contravention of the Hippocratic promise of doctors' 'uncompromising loyalty' to patients.  He may not have arrived at a precise definition of the 'permissible ends of medicine,' as he writes, but he pull us along much closer to one with this very thoughtful book."--Susan Dentzer, editor of Health Affairs and former health correspondent for The NewsHour
 "Gregg Bloche's provocative book deserves careful reading by everyone who cares about physician integrity and the social compact between doctors and patients."--Harvey Fineberg, President of the Institute of Medicine
"In The Hippocratic Myth, Gregg Bloche – physician, lawyer, and ethicist – guides the reader to acknowledge and accept the reality that doctors are agents of society as well as guardians of their patients.  Bloche skillfully weaves together an extraordinary range of stories and accounts of medical involvement in rationing, in war, even in capital punishment and torture, most of it based on his own research. "--Daniel Wikler, Harvard School of Public Health
"Confronting issues that policy makers commonly seek to evade, and building on his own experiences as a physician and attorney, Greg Bloche examines the many ways in which the Hippocratic ideal - that physicians serve exclusively as advocates for their patients- is increasingly compromised. Recognizing the inevitable economic constraints in doing all that medical knowledge and technology makes possible, he explores alternative frameworks for addressing conflicts of interest in more ethical ways. The questions explored are central to the future of an equitable and ethical system of health care and merit much discussion and debate as we go forward."--David Mechanic Ph.D. Director and Rene' Dubos University Professor, Institute for Health, Health Care Policy, and Aging Research, Rutgers University
"Bloche draws the curtain back on the central tension in health care: we can do far more in medicine than we can pay for – and somebody has to decide what gets done.  Who should that be? Doctors try to hide behind their oath and claim they act exclusively in the interests of patients, but Bloche shows that this is a myth.  They are entangled in the economics of incentives and limits.  Physicians and patients alike will be disturbed, even angered, by this book.  That's why they must read it."--Stuart M. Butler,
The Heritage Foundation
Coverage from NPR
or
Not Currently Available for Direct Purchase